Product information
The Eric belongs to the functional transverse mechanism with the CLIC-CLAC system. This sofa bed has a metal base with oak wooden legs and a slatted base. The Eric sofa bed is available with or without armrests. Before unfolding, the back cushions must be removed, after which the sofa can easily be unfolded. There is a wide choice of fabric in different price groups. This means you can always choose a suitable version.
Solid mechanics
The functional transverse mechanism to which the CLIC-CLAC systems belong has a very solid system and a good slatted base. In addition, the system is very easy to operate and you not only have a sitting and lying position, but also an intermediate position that is called the relax position or lounge position. As a result, the sofa leans back a little more and you, in other words, will sit a little more reclined. The Eric sofa bed is only available in bed size 140 x 200 cm.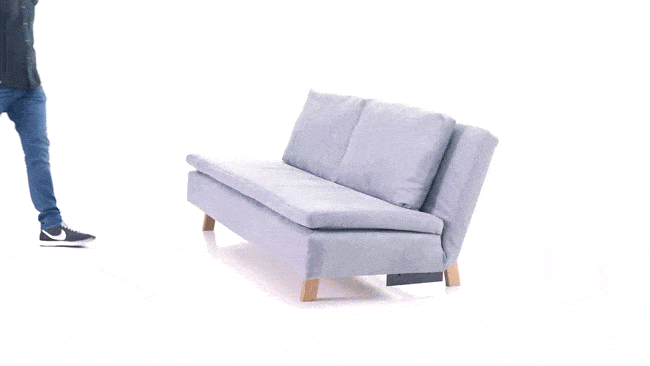 Dimensions and prices
The price of the Eric sofa bed depends, among other things, on the chosen fabric and whether you choose the sofa bed with or without arms. The prices below are the starting prices.
€ 1,624 with a bed size of 140x200 cm.
€ 1,870 with arms and a bed size of 140x200 cm.
Important information regarding the delivery of the Eric sofa bed:
The Eric sofa bed is well packaged and can therefore go in almost anywhere. We assemble the sofa bed in the place you have chosen and take all the packaging material with us; that's service!
Delivery and assembly are FREE in the Netherlands (excl. the Wadden).
Would you like a delivery on the Wadden Islands or in Belgium?
Please contact us first about the possibility and additional costs.