Product information
The Loft wall bed from Boone is one of the best available in the field of wall beds. This wall bed is possible in a version with a sofa in front. This sofa has a nice airy design and even a small storage space in the seating area. The sofa is available in various fabrics and colours. Wall bed model Loft is supplied with an excellent slatted base as standard. The lying height comes with a mattress of approximately 20 cm. thickness at 70 cm., making getting in and out of bed a piece of cake. Because this wall bed has a mattress with a thickness of 20-21 cm. can be used, in addition to the polyether and cold foam mattresses, standard pocket spring mattresses can also be used. Depending on the choice of mattress, the folding mechanism can be adjusted so lightly by means of adjustable springs, so that folding and unfolding requires very little effort. Loft wall bed is available in standard white and at an additional cost in the colors white oak, sand oak, gray oak, light oak, dark oak and sepia. The front panel is standard in white. Various other versions, lacquer colors and high-gloss white are available at an additional cost.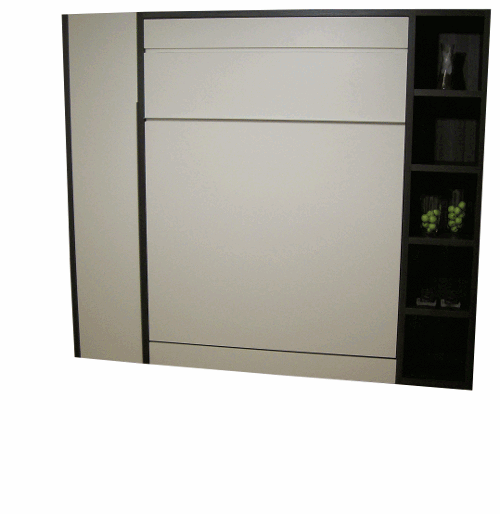 The folding bed Loft is available in bed sizes 90, 140, 160 and 180 x 200 cm.
The unfolded size is 215.5 cm.
Maximum mattress thickness 20-21 cm.
Prices of only the folding bed Loft with sofa and without mattress in standard white with the bed sizes:
  90x200 cm, cabinet width 113 cm excl. mattress from € 5,415
140x200 cm, cabinet width 159 cm excl. mattress from € 6,528
160x200 cm, cabinet width 179 cm excl. mattress from € 6,724
180x200 cm, cabinet width 199 cm excl. mattress from € 7,136
Wall bed Loft can be viewed and tried out in our showroom without a sofa!