Product information
The lying height comes with a mattress of approximately 20 cm. thickness at 70 cm, making getting in and out of bed a piece of cake. Because this wall bed has a mattress with a thickness of 20-21 cm. can be used, in addition to polyether and cold foam mattresses, standard pocket spring mattresses can also be used. Depending on the mattress choice, the folding mechanism can be easily adjusted using adjustable springs, so that folding and unfolding requires very little effort. The Loft folding bed is available in standard white and at an additional cost in the colors white oak, sand oak, gray oak, light oak, dark oak and sepia. The front panel is standard in white. Various other designs, paint colors and high-gloss white are available at an additional cost.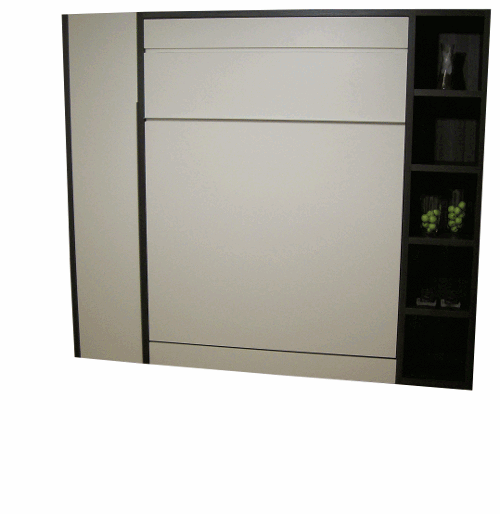 The folding bed Loft is available in bed sizes 90, 140, 160 and 180 x 200 cm.
The unfolded size is 215.5 cm.
Maximum mattress thickness 20-21 cm.
Prices of the Loft wall bed only and without a mattress in standard white with the bed sizes:
  90x200 cm, cabinet width 113 cm. from €3,644
140x200 cm, cabinet width 159 cm. from €4,072
160x200 cm, cabinet width 179 cm. from €4,143
180x200 cm, cabinet width 199 cm. from €4,380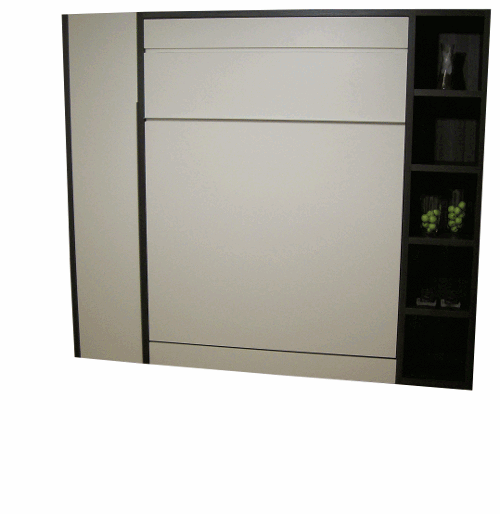 Important information regarding the delivery of the wall bed/folding bed Loft:
When we deliver the Loft folding bed to you, it is important to know that the folding bed will arrive disassembled. The largest part that remains is the bed frame. This may be in 2 parts and must then be able to enter your home. A spiral staircase or a staircase with a kink could cause problems. We therefore request that you measure this carefully and contact us if there is any doubt. You can also send us a video of the stairs to our whatsapp number 0682941119
The Loft folding bed is delivered by us and mounted at the location chosen by you and attached to the wall. It is therefore important that it is a solid wall of concrete, stone or gypsum concrete blocks. If in doubt, please contact us.
In our showroom you can view the wall bed Loft in a version with a bed size of 140 x 200 including cabinets and in the version 160 x 200 including sofa.