Spacious offer in our showroom

Professional advice

Free delivery across NL, excluding the Wadden Islands
Murphy beds
At Easy Living you will find a varied range with more than twenty different types of folding beds. By buying your folding bed from us, you always benefit from the following benefits:
High quality folding beds
A 600 m² showroom where you can try out all our models
Free delivery and assembly in the Netherlands, except on the Wadden Islands
Buy your folding bed with certainty: we are a CBW-approved specialist retailer
Visit our showroom!
At Easy Living we always have a folding bed that suits your style. In our showroom you can quietly view all folding beds and we are happy to provide you with appropriate advice. Do you have a question about one of our folding beds or would you like more information? Call 020 663 11 61 or quickly ask your question on WhatsApp via 06 82941119.
A horizontal or vertical folding bed
In our offer you will find two models: a horizontal and vertical variant. Not sure yet which folding bed is best for your room? Our specialists are happy to help you by telephone or in our showroom. Below we describe the biggest differences between the two folding beds.
Vertical folding bed
The vertical folding bed is best known among the folding beds. With this model you lie with the head end to the wall. With a vertical folding bed, the bed will fold out into the room and you will need more space there. The width of the closet is less than with a horizontal folding bed.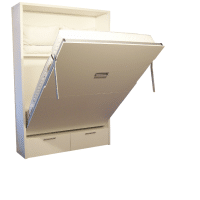 Horizontal folding bed
With a horizontal folding bed, you lie parallel to the wall. So you need more space in the width for your wall bed. However, the bed does not expand as far out of the room as with the vertical folding bed. The horizontal folding bed is more suitable for narrower spaces
Assemble the folding bed
Do you want to be completely unburdened when purchasing your folding bed? No problem! As a specialist, we take over everything from you. As a specialist retailer, we also offer the installation for free in addition to a free delivery of your folding bed. We want to make sure that your new folding bed fits perfectly and is mounted securely. We will of course take the packaging material with us. So you don't have to worry at all about the delivery, assembly and waste of your new folding bed.
600 m2 showroom
We understand better than anyone that you really have to see how the folding bed works and can choose a model for you. That is why we wish you a warm welcome to our showroom in Amsterdam. While enjoying a drink, try the different models without obligation. If you have any questions, our specialists are ready for you!
Please contact us