Spacious
offer
in our showroom

Professional
advice

Free
delivery across NL, excluding the Wadden Islands
Buy a folding bed?
looking for a murphy bed? At Easy Living you will find a varied range with more than twenty different types of murphy beds. By buying from us you will always benefit from the following benefits:
A 600 m² showroom where you can try out all our models
Free delivery and assembly in the Netherlands, except on the Wadden Islands
Buy with certainty: we are a CBW-approved specialist retailer
A new folding bed, view them in the showroom!
At Easy Living we always have one murphy bed that suits your style. You can view all folding beds in our showroom and we will be happy to provide you with appropriate advice. Discover the benefits of a sofa bed, bedside cabinet or sofa bed. Do you already have a question or would you like more information in advance? Call 020 663 11 61 or ask your question quickly on WhatsApp on 06 82941119. We have also written a blog about folding beds especially for you. You can also get some additional information there about the benefits and functions of folding beds. Read our blog here'what are folding beds?'.
A horizontal or vertical folding bed
You may not know it yet, but there are two types of models and we have them in our range: the horizontal and the vertical folding beds. Both have their own benefits and are useful for specific spaces. Are you curious which variant is best for you? Our specialists are happy to help you by phone or in our showroom. Below we also describe the biggest differences between the two.
Murphy bed vertical
A vertical murphy bed is perhaps the best known among the folding beds. If you choose this variant, you lie with your head to the wall. The bed will then fold and unfold the room. You therefore need a little more space for this variant, because you must be able to fold out the full length of the bed in the room. The width of the cabinet is slightly less than with the horizontal cabinet.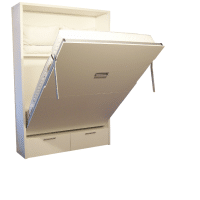 Murphy bed horizontal
Then of course we also have the second variant, the horizontal one. At one horizontal murphy bed lie parallel to the wall. With this variant you therefore need more space in the width of your room. However, the bed folds out less far, which again saves space. We often recommend the horizontal variant for narrow spaces.
We take care of the installation
It is of course nice to be completely unburdened when you buy a folding bed. We understand this and that is why we take, if specialist, all about you. As a specialist retailer, in addition to free delivery, we also offer installation free of charge. We want to make sure that your new purchase fits perfectly and is securely mounted. We will of course take the packaging material with us. So you do not have to worry about the delivery, assembly and disposal of your new purchase. Service is our top priority. Fine right?!
600 m2 showroom full of folding beds
We understand better than anyone that you really have to see how it works and that you can choose a model for you. That's why we warmly welcome you to our showroom in Amsterdam. Try out the different models without obligation while enjoying a drink. If you have any questions, our specialists are at your service! We are happy to provide expert advice, so that you always leave with the right product!
Have you seen a folding bed? Contact us for more information!
Do you have questions or would you like to know more about our service? Send us your message via WhatsApp to 06 82941119, call us at 020 6631161 or send an email to info@slaapbanken.nl† Would you like some handy tips for buying a folding bed? Then quickly read our blog 'buy a folding bed, what should I pay attention to† and discover what is important when buying a folding bed! After reading our blog you can't go wrong! Otherwise, we will of course still help you in the showroom!
Be inspired by Easy Living
General
Delivery time and delivery
Returns
Guarantee
Frequently asked questions about our folding beds
Can I view and try your folding beds in a showroom?
Of course! As a specialist store, we have an extensive showroom with 20 different folding beds. You are always welcome to look around and to be advised if necessary. Coffee and tea is always ready!
Does my wall bed look exactly the same in real life as on the website?
We have tried to depict the product as well as possible and to show how it works. We have also tried to make the color look as natural as possible. Of course it can always differ slightly in real life. We therefore always advise you to come by the showroom.
Can a folding bed be placed separately in the room as a room divider?
No, a folding bed must always be attached to a wall. If you have a special wish regarding the placement of your folding bed, please contact us to discuss the possibilities. We are happy to think along with you about the possibilities.
Can I also buy matching side cabinets in addition to the folding bed?
Yes this is possible! In addition to the folding bed, you can also choose various side cabinets in the same program, so that you can create a beautiful wall with storage space and a bed.
Can a folding bed be made to measure?
The folding bed itself always has fixed dimensions. You can only make the total cabinet wider or narrower by adjusting the bed size. Any side cabinets can be custom made. Always take the available sizes of your space with you during your visit to our showroom, so that we can help you find the ideal solution.
How big is a rollaway bed?
The size of your folding bed will depend on the bed size you choose. We also have folding beds expand horizontally or unfold vertically. Which type you choose also determines the size of your folding bed. You can find information about the dimensions of the folding beds on the product pages. Of course, our advisors can also help you. Do you have a specific size that the folding bed should fit? Then take it with you during your showroom visit, so that we can advise you correctly.
Can I fold the folding bed made up?
Yes, this is possible, provided you take into account the choice of the mattress. Example: You can choose a mattress thickness of up to 20 cm in your folding bed and you would like to be able to fold up the bed with duvet. Then it is advisable to choose a mattress in your folding bed that is 18 cm thick or less. The space gained can then be filled by the duvet. A folding bed is always supplied with fastening straps that you click into place around the mattress and possibly over the duvet. This way everything stays in place when folding and unfolding your folding bed. We cannot say with certainty whether it will also be possible to fold up the folding bed with pillow. Some folding beds have storage space for the pillows, with others the pillow may have to be stored elsewhere. This of course also depends on the thickness of your pillow.
Can I use my own mattress in the rollaway bed?
Yes, this is possible, provided it meets a few conditions. First, the mattress should not be too thick. We can indicate per folding bed what the maximum thickness of the mattress may be. The folding bed must of course be able to close! In addition, we advise not to use mattresses with a latex filling or memory foam/memory/tempur. These fillings cannot stand to stand upright. Gravity causes these fillings to sink, creating bumps in your mattress. If you do not have a suitable mattress yourself, then we also have a nice collection of mattresses that are suitable for the folding beds.
Can I sleep on a rollaway bed every night?
Our folding beds, in combination with a good mattress, are suitable for sleeping on every night. However, all our programs have differences. Consider, for example, differences in bed heights and slatted bases. This can be decisive in your choice of bed for each night. In the showroom, our advisors can show you the differences, so that you can decide for yourself which folding bed suits you best.
How much does a rollaway bed cost?
A folding bed for 1 person starts with us from about € 1500. A folding bed for 2 persons starts at approximately € 2200. However, we also have folding beds that can exceed € 4000. It's about the requirements you set for the folding bed. How often will you use it and what are your wishes? In our showroom we can guide you in choosing the right folding bed. If you want extra additions such as a desk, table or sofa for the wall bed, there will of course be an additional cost. You can also expand most folding beds with a program of shelves and hanging cupboards.
Where can I buy a folding bed?
You buy a folding bed from Easy Living. You can buy a folding bed in our extensive showroom. Here our experienced advisors can guide you in your choice. We have about 20 different folding bed programs in our showroom that can give you a good idea of the possibilities.
A folding bed is actually exactly what the word says: a bed that you can fold up. The bed then disappears into a cupboard, so that it is nicely concealed. It is an ideal product to save a lot of space and make the room more efficient. When choosing a folding bed, the room does not always have to have a bed as standard. You can easily fold up the bed, creating more living space!
Can a rollaway bed move in with me?
Many of our folding beds are delivered in parts and can often be moved upwards in parts. However, it is important to know that sometimes the bed frame (slatted base) is standard in one piece. It is therefore necessary that this part must be able to enter your home. If you have a spiral staircase or a staircase with a bend, this could cause delivery problems. Sometimes it is possible to order the bed frame divided at an additional cost. If you are unsure about the possibility, we recommend that you record a video with your mobile phone of the situation of the stairs and take it with you when you visit the showroom. Is it not possible via the stairs, but perhaps via the window? We can also work with a removal lift for delivery at an additional cost.
Does Easy Living also deliver in Belgium?
Please contact the showroom to discuss the possibilities.
Will my folding bed be assembled for free?
Yes, we assemble all folding beds free of charge on the mainland in the Netherlands at the location specified by you. Your folding bed will be assembled by our own experienced assembly team. When we leave you can use the folding bed immediately. We also take the packaging material with us.
Will my folding bed be delivered free of charge?
Yes, we deliver all folding beds free of charge to the mainland in the Netherlands at the location specified by you.
I need to have a rollaway bed for a certain date, is that possible?
If you have a final date when you need a folding bed, please contact us first to discuss the feasibility. We can work with you to see which folding beds can be used and whether they suit your needs.
What is the delivery time of a folding bed?
The delivery time of a folding bed is on average 10 – 12 weeks. However, it is always possible, if we know exactly which folding bed and in which version there is interest, to see if a faster delivery time is possible.
Can I return my folding bed?
Rollaway beds that are already mounted on the wall are not eligible for return.
We are affiliated with the Central Housing Association. This means that you receive a full warranty on the delivered product for the first 2 years. Of course, this warranty does not apply if damage has been caused by incorrect use or damage that has been self-inflicted.
What are the terms and conditions?
We are affiliated with the Central Trade Association for Housing. The CBW Recognized Conditions therefore apply to you.