Spacious
offer
in our showroom

Professional
advice

Free
delivery across NL, excluding the Wadden Islands
Rollaway beds, what are they anyway?
You see them more and more, folding beds, but what are folding beds anyway? There are two different types. You can fold up a folding bed against the wall or you can fold a folding bed into a closet. Then it is actually a bed hidden in a cupboard! In the latter way, the bed is nicely concealed and you cannot see it at all during the day. Space-saving and neat! Option one is also perfect for saving space, but then you can still see the mattress in the room from the side! Saving space is therefore a major advantage of a folding bed, but what are the other advantages of a folding bed and what are the properties of a folding bed? We will explain everything to you in this blog, so that you know exactly where you stand when you buy a folding bed!
Rollaway beds heavy to unfold?
Many people think that it is very difficult to murphy bed to unfold! After all, you don't just lift a bed, do you?! Fortunately, this is a myth, because folding beds are not at all heavy to unfold. This is because the folding is supported by a system with gas springs. These gas springs ensure that the bed has to be pulled out a little bit and then slowly comes down by itself. Do you find this hard to believe? Please come and visit us our showroom in Amsterdam to try it out. There are plenty of models and we are happy to show it to you!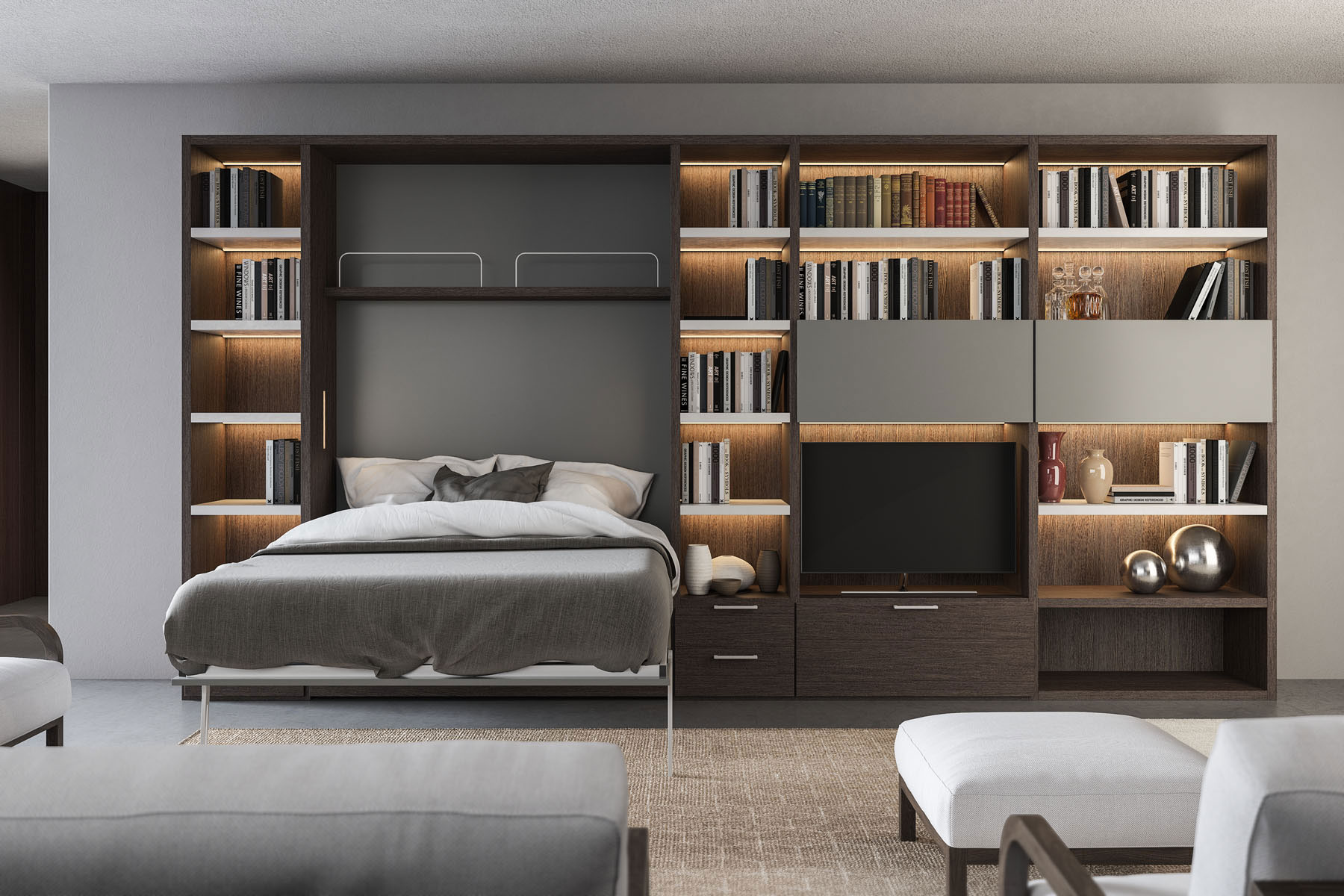 Rollaway beds: suitable for every night?
A second myth is that rollaway beds are not suitable for every night. We often get the question whether you are up to date every night murphy bed can sleep, but we can also dispel this myth. We can confidently say that our rollaway beds are strong enough to sleep on every night. We place high demands on the quality of our products and find it important that these beds can be folded and unfolded every day without any problems. We are aware that buying a folding bed is a major purchase and we therefore think it is only logical that you should also be able to enjoy it for years without any problems.
Can you sleep well on folding beds?
The most important question of course; can you sleep well on folding beds?! The answer is yes, sure! As already answered above, our folding beds are suitable for sleeping on every night, so it is of course also important that you can sleep well on them! All folding beds in our range always have a slatted base as support. Then you choose a suitable mattress yourself. We have a nice collection of mattresses that are suitable for use in a murphy bed. We hereby advise, if specialist, you too again to come by in the showroom, so you can try them out for yourself.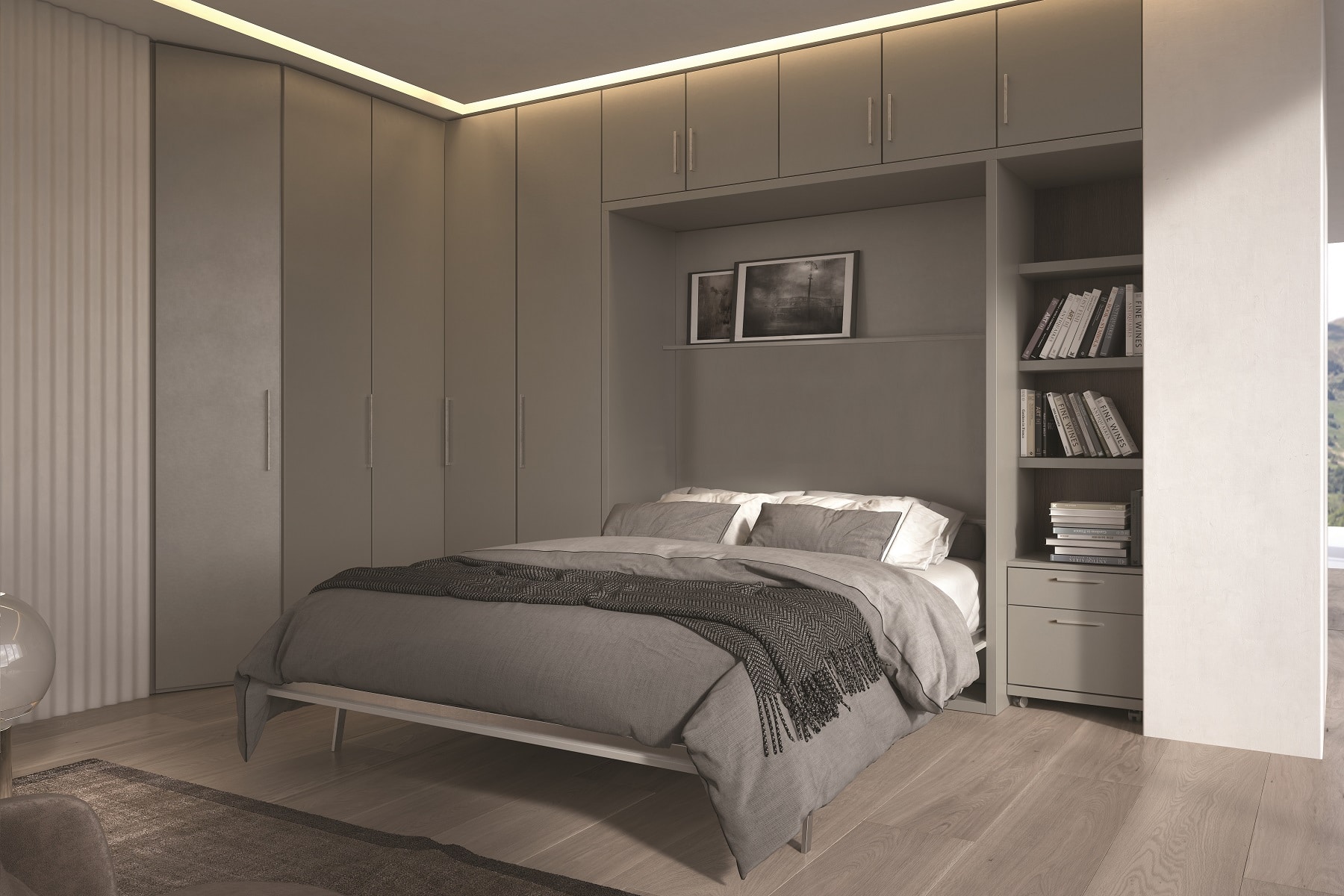 When are mattresses suitable for the folding beds?
Not all mattresses are suitable for a murphy bed, so it is good to always get advice first. Firstly, a mattress should not be too thick. If the mattress is too thick, it will probably happen that the folding beds no longer close. Our thickest mattresses, which we have in our collection, are 22 cm thick. However, the choice often comes down to an 18 cm or 16 cm thick mattress. If the folding bed has a fairly shallow cupboard and there is a wish to fold the bed with duvet and all, then we may, for example, recommend a mattress of 16 cm thick. We also have a choice of high-quality mattresses of 16 cm thick. Think, for example, of a pleasant cold foam mattress.
Second, not all mattresses, in terms of filling, suitable for use in a folding bed. Not every mattress is suitable for standing upright. Some fillings sink down due to gravity. Memory foam / Tempur / memory foam and latex mattresses are not suitable for rollaway beds. These fillings will slowly collapse. A cold foam, pocket spring, inner spring or polyether mattress is suitable for folding beds. The mattresses can be ordered in all desired sizes. Our mattresses are custom ordered for you. Most mattresses for a folding bed can also be chosen in a firm or flexible version.
If we were in our collection If you do not have the right mattress for you, you are of course free to buy a mattress elsewhere. We think it is important that you get a good night's sleep!
Rollaway beds that are right for you?
If you are unsure whether a folding bed is also suitable for you, we hope you are specialist to be able to provide the correct information in folding beds, so that you can make the right choice. Be welcome for that our showroom† We have 20 different folding beds in our showroom that we are happy to demonstrate to you without obligation.
Maybe these folding beds are interesting for you?