Spacious
offer
in our showroom

Professional
advice

Free
delivery across NL, excluding the Wadden Islands
The difference between a sofa bed and a folding bed
Are you looking for a space-saving solution for your guest room or small studio? Then of course we recommend a sofa bed or a folding bed, but which is the right choice? Is there actually a right choice or are they both practical for every room? We are happy to tell you more about the differences (or perhaps the similarities) of these products. 
What exactly is a sofa bed?
First of all, let's start with the properties of a sofa bed. What exactly is a sofa bed? A sofa bed actually has all the normal properties that an ordinary sofa also has. So simply; you can sit on it. However, a sofa bed naturally has an extra function; it can also become a bed. It depends on the mechanism of the sofa bed which action you have to perform for this. The sofa beds from Easy Living all work very easily. A sofa bed is generally placed in the room and is not really moved anymore. The space-saving part is that you have a bed and a sofa in one go. This is of course different from a folding bed. So let's also take a look at the features of a folding bed.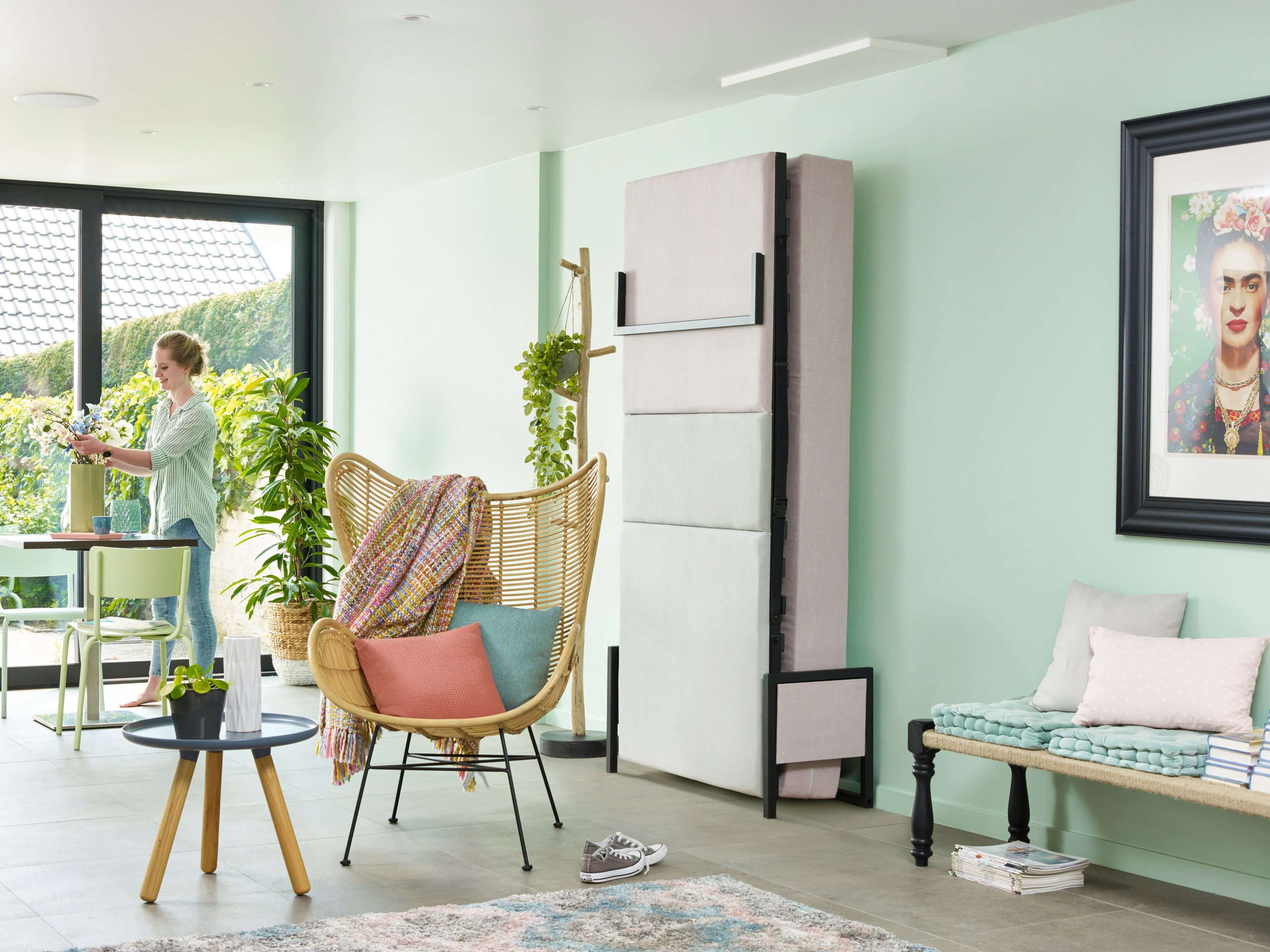 What exactly is a folding bed?
In the simplest explanation, a folding bed is a bed that you can fold up. The folding up goes to the wall. This can be done in two ways. The bed folds against the wall or the bed then disappears into a beautiful casing, so that you actually see a cupboard and no longer a bed. Here you actually have the space-saving solution of one right away murphy bed. Once the bed is folded up, you have room for other furniture or items. The bed has been moved to the wall. However, you miss a couch, so an extra seat.
A folding bed is possible horizontal on vertical be folded up. It depends on the space which option is most convenient for you. Would you like some more information about that? Then also read our blog: "Buying a folding bed, what should I pay attention to??".
Why do I choose a sofa bed?
The difference is therefore clear in itself, but when should you go for a sofa bed? If you like the fact that in addition to the bed function, there is also a possibility to sit down in that room, the sofa bed is a good choice. You get two functions in one. The furniture is suitable for both sitting and sleeping, so it is an ideal space winner. However, keep in mind that a sofa bed often has a depth of between 90 and 105 cm. average. This is therefore somewhat deeper than a normal sofa.
Another advantage is that a sofa bed is often a slightly 'cozier' option than a folding bed. There is a cozy upholstered sofa instead of a cabinet.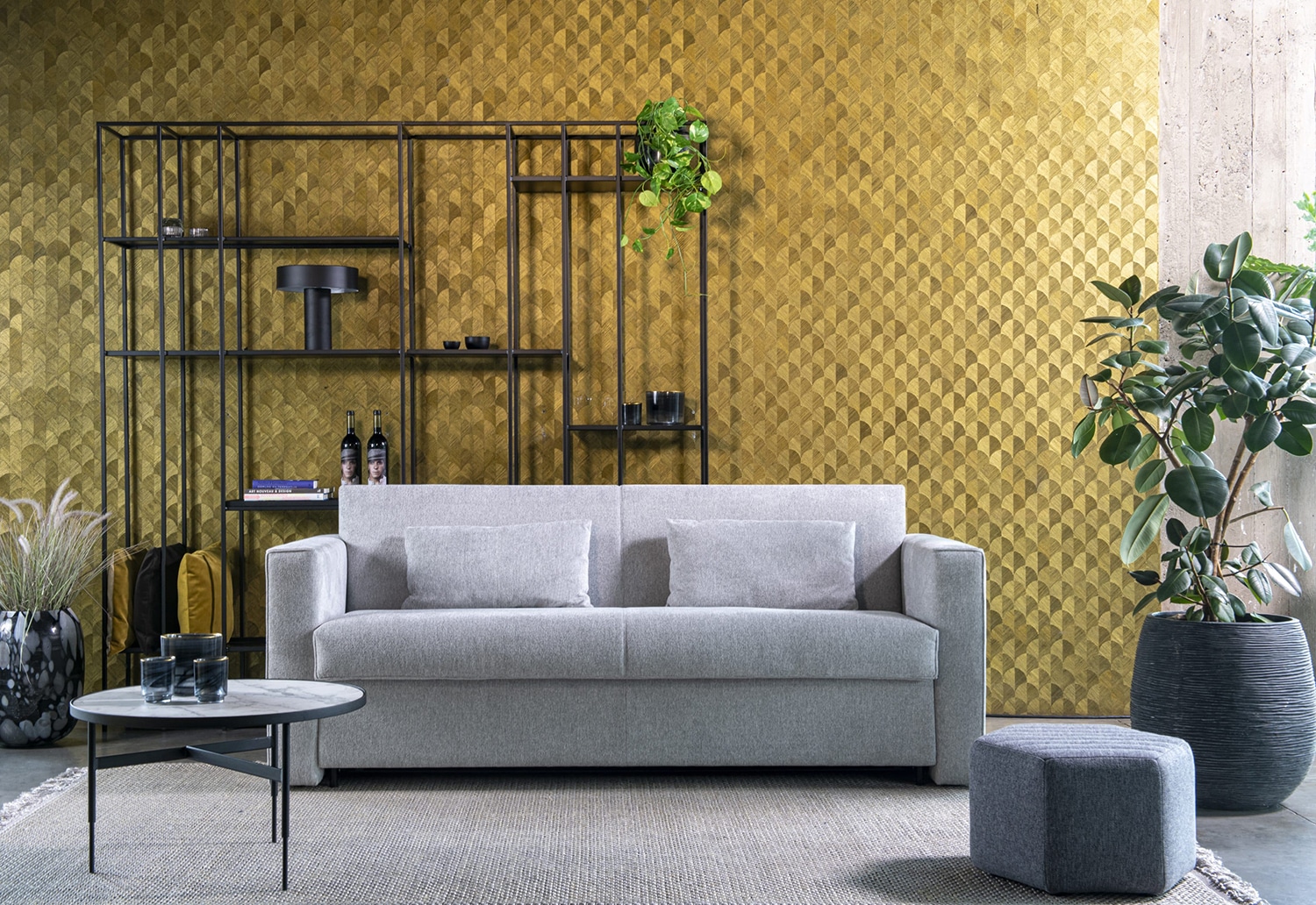 Why do I choose a folding bed?
Then of course there is also the option for it murphy bed. If you don't want to sit in the desired room, a folding bed is often a smarter choice. When folded, a folding bed is a less deep piece of furniture. Another reason to choose a folding bed may be that you also want to create storage space. In addition to the folding bed, storage cabinets can be supplied that are designed in the same style as your folding bed. This way you can create a beautiful wall with a bed and storage space in one.
I think a rollaway bed is better than a sofa bed, is that correct?
Then there are also a number of prejudices about a folding bed and a sofa bed. We often get the question whether a sofa bed and folding bed are just as comfortable. Isn't a folding bed better because you only sleep on it? Is a sofa bed less good because you sit on it during the day? We can be very brief about this; a sofa bed does not have to be inferior to a folding bed in terms of lying comfort. It is only important that you choose a sofa bed that has a high quality mattress and mechanism. Look at our sofa beds with a royal mechanism.
A folding bed with sofa
If you do not want to choose between one of the two at all, then the folding bed with sofa function may be the most ideal choice. You must imagine that there is a bench in front of the folding bed. During the day you can fold up the folding bed and then you have the sofa at your disposal. If you want to sleep at night, it is possible to fold out the folding bed over the bench. Doesn't that sound ideal?
Since the bench is in front of the folding bed, you should bear in mind that the piece of furniture is a bit deeper than most sofas and folding beds. Consider a depth of about 120 cm. Take a look at our range for these solutions folding beds including sofa.
What should I choose for my workplace?
Are you looking for a solution to work on something at home? Then a folding bed is a good choice, because it can be combined with a table or desk. This way you can work on your folding bed during the day and use the same piece of furniture to transform it into a bed at night. Now that's multifunctional! Take a look at our range for this folding beds with table or desk.
Would you like to see in real life what the differences are between a sofa bed and a folding bed? Then come and visit our showroom in Amsterdam. Our advisors are ready to give expert advice! You can also get some inspiration online via our blogs: "Buying a sofa bed, what do I need to know?", "Why a sofa bed" or "Buying a folding bed, what should I pay attention to?".