Spacious
offer
in our showroom

Professional
advice

Free
delivery across NL, excluding the Wadden Islands
Buying a sofa bed, what do I need to know?
Do you have a small space that you would like to make the most of? Or a guest room with a bed that is too large, for which you are looking for a space-saving solution? Then a sofa bed is a perfect choice for you. Buying a sofa bed is not just done lightly. There are a number of things to look out for that are important to know. We are of course happy to tell you this in our showroom while enjoying a cup of coffee, but via this blog we would also like to give you a foretaste.
To measure is to know, make sure you know how big the sofa bed should be!
To measure = to know. It sounds so trite, but it sure matters! We often see people in our showroom who have forgotten to measure the size of the place where the sofa bed should be at home. To avoid disappointment and to make your visit efficient, it is good to visit us with the correct room size. Then don't just think about the width of the place, but also how much space there is to unfold the sofa bed. logically; if the bed is folded out, the furniture moves even further into the room and there must be enough space for it. We have over 50 different sofa beds are in our showroom and our consultants know all the dimensions by heart to a large extent. It may just be that that one centimeter ensures that one sofa bed will fit and the other will not. So be prepared and we will be happy to help you find the sofa bed that best fits the available space.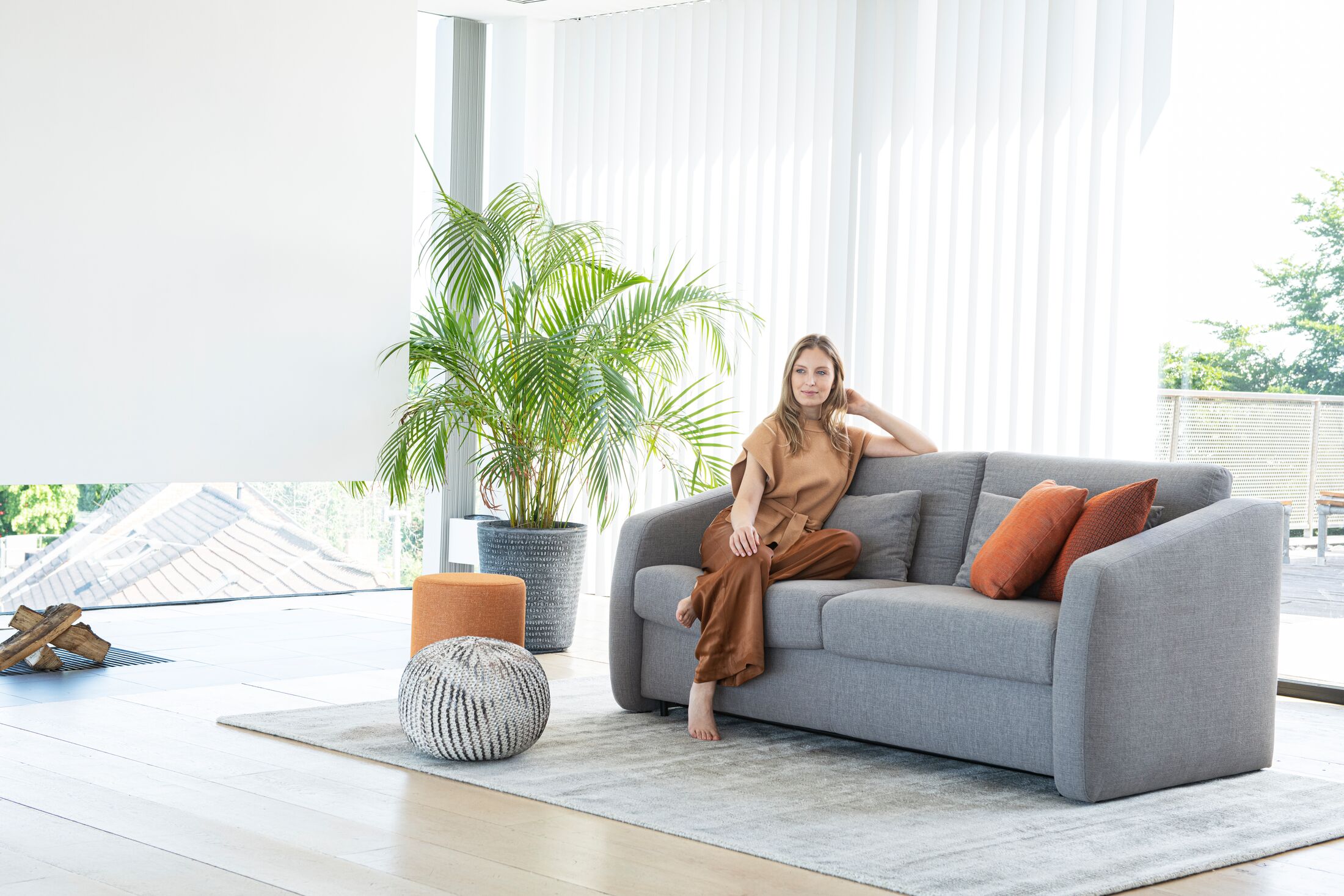 Buy a sofa bed? How will you use it?
If you want to buy a sofa bed, you must also have a good destination for it! During your visit to the showroom, we will ask you how you will use the sofa bed; for example, will you sleep on it yourself every night or will it be used occasionally for a guest? Will the sofa bed be placed in the living room and will you sit on it yourself every day? Then it is important, for example, that you sit well on it and that the couch makes you happy when you walk into the living room. We have divided our sofa beds into various bed systems for every type of use:
We have also developed a very handy decision aid to help you choose the right sofa bed. So you can easily find out in just a few clicks what the best sofa bed is for you. Go to our decision aid and get advice. Do you also think it is important that the sofa bed fits into the interior? We always pay attention to the latest trends with our range. Are you curious about these trends? Please also read our blog: "sofa bed, what are the trends".
Help, can the sofa bed go in?!
Very nice of course, buying a sofa bed, but what we want to prevent at all times is that we are on your doorstep on the day of delivery with a sofa bed that does not go up. It is therefore very important for us to know where to deliver the sofa bed. This way we are always sure that nothing can go wrong! However, we do not have the knowledge of your house, so it is very important that you think about this in advance. In general, most sofa beds from us can be delivered disassembled and therefore often taken anywhere inside. However, a sofa bed frame can just cause problems with narrow stairs with a sharp turn.
Do you have experience with the fact that it is difficult to get things upstairs or do you have doubts about the accessibility of your home? Then record a video in advance with your mobile phone in which you film the stairs and take it to the showroom. Our advisors can usually make a good estimate by looking at this whether it will work. Do you have an elevator? Then it is usually possible to get everything in without any problems. When in doubt, also include the dimensions of the lift.
Would you like to use our removal lift, no problem! We can arrange this for you for a small surcharge, so that the sofa bed does not have to go up the stairs. For this it is important that you measure the window through which the sofa bed should pass.
This is of course all a precaution. As mentioned, most are sofa beds available disassembled and we often have no problems. Logically, we ensure that the sofa bed is assembled at its destination and we leave you with a properly working sofa bed!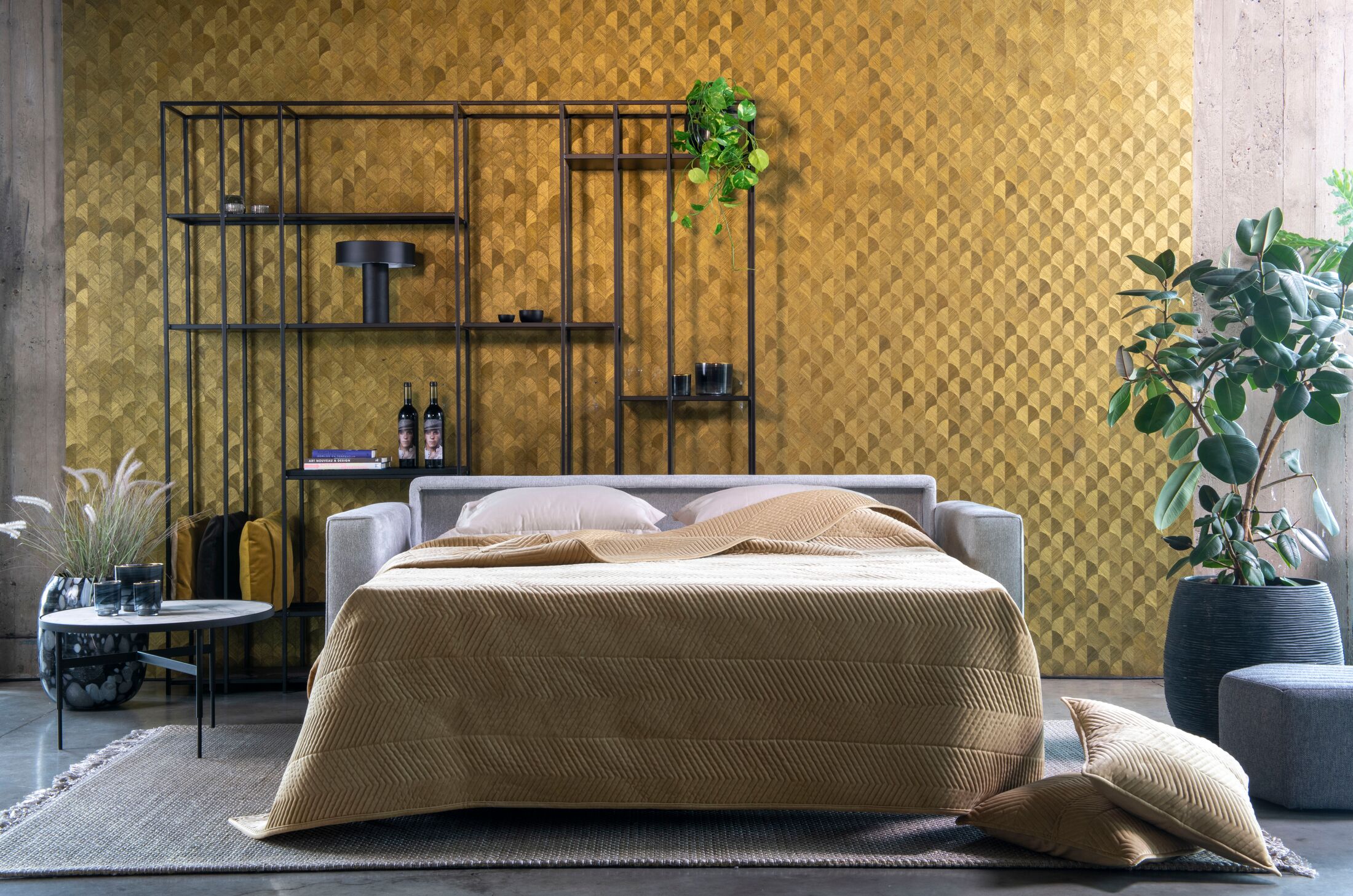 What color do I want my sofa bed?
Of course it is very important that your new sofa bed fits in with your interior! Most sofa beds are available in various fabrics and colours, but it is always good to think about your wishes beforehand! What color should the sofa bed be and what kind of finishes were you thinking about? For example, do you have curtains or a floor that the sofa bed must match? Then take a sample to our showroom. We are not surprised if you visit our store with a roll of wallpaper under your arm. Ultimately, it is important that the sofa bed adds value to your space and a well-chosen fabric and color is important. This makes buying a sofa bed even more fun!
Buying a sofa bed, how long is the delivery time?
You can choose the sofa bed that you are going to buy entirely according to your own wishes. This means that you choose in which bed size you want the sofa bed, in which fabric, with which legs, with which mattress, etc. This means that in general the sofa bed will be made to order for you and cannot be delivered immediately. So you will have to be patient. How much delivery time this will be varies per manufacturer. Our advisers can of course provide you with information about this per bank.
So don't wait too long with buying a sofa bed if you are "in a hurry". Can't wait eight weeks and do you really need something fast? Then we work with some sofa beds with stock and sometimes we also sell showroom models. Look for quickly available sofa beds our webshop.
If you don't like buying a sofa bed online, we would like to welcome you in our showroom. Collect all the above information and come and visit us in Amsterdam! Our experienced advisors are always there for you. Are you not sure yet whether you are really going to buy a sofa bed? Then you are also welcome to come and try out all our sofa beds without obligation.
Maybe these sofa beds are interesting for you?