Spacious
offer
in our showroom

Professional
advice

Free
delivery across NL, excluding the Wadden Islands
Sofa bed, what are the trends?
When we are going to furnish our house, we may secretly always pay attention that our furniture fits within the latest trends. Of course we also do this if we are simply looking for one new piece of furniture. But what are these latest trends? And can all furniture keep up with the latest trends, including the sofa bed? We think so and therefore take into account that our products also fit perfectly within the trends. Are you curious about the latest trends? in the field of sofa beds? Then read on!
The sofa bed with a Scandinavian look
I think this is about one of the most famous trends, an interior with a Scandinavian look. This trend is also very popular in the world of sofa beds. This is mainly reflected in sofa beds with a fresh look and an accent of wood. Do you want a sofa bed that goes along with this trend? Then we recommend the sofa bed Cubed or the sofa bed Balder On. The Cubed de Luxe sofa bed (see the photo below) has beautiful oak wooden legs that combine beautifully with the gray mixed fabric. Perfect for a Scandinavian interior.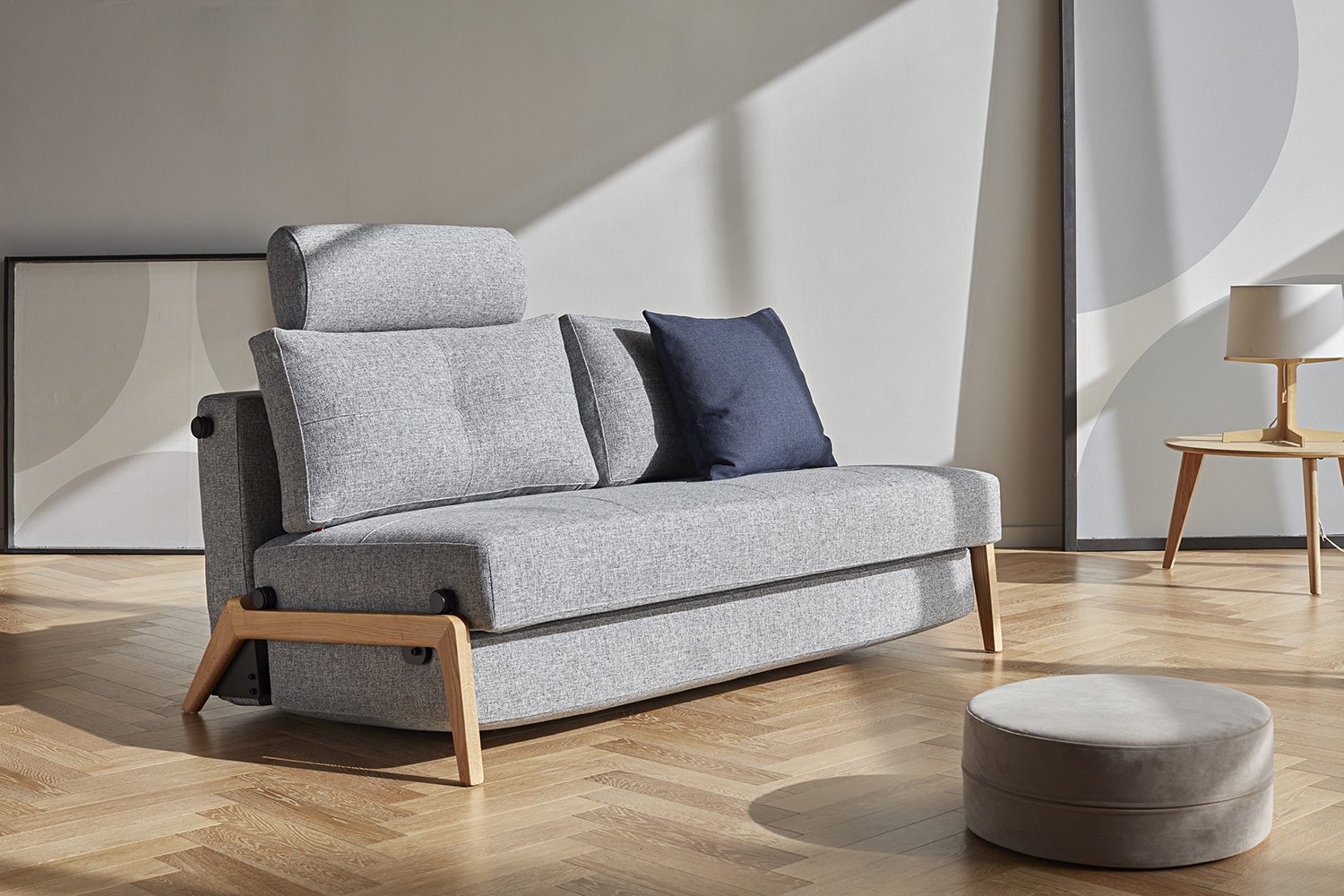 The sofa bed with the airy, sleek look
So we have the Scandinavian trend, but a completely different trend is the sleek sofa on a high leg. This combination creates an airy look. Do you recognize yourself in these wishes? Then you are not alone. This is a much sought-after appearance for a sofa bed. Because the sofa bed is slightly higher on its leg, the sofa bed appears less "heavy" and more elegant. Often these models also remain quite narrow in width. For this look, check out the sofa bed Richard or the sofa bed Selo. Perhaps one of these two will fit perfectly into your interior.
The sofa bed as a lounge sofa
When we think of trends, we often think of appearance, but comfort is also very important. Who wouldn't want to relax in their couch? Add a book or watch a movie, isn't it great?! This is also a trend that we see again and this is certainly possible if you are going to buy a sofa bed. So do you want a variant with a nice deep lounge? No problem! We have several models that all have a lounge depth in terms of seating comfort. These are guaranteed to make sure you can snuggle up on your couch! And then there is also a bed hidden in it as a bonus. Insane! Take a look at the models for these lounge sofa beds More, Simple and Fox. These sofas are all perfect for a small studio. During the day you will experience comfort and at night you can sleep well.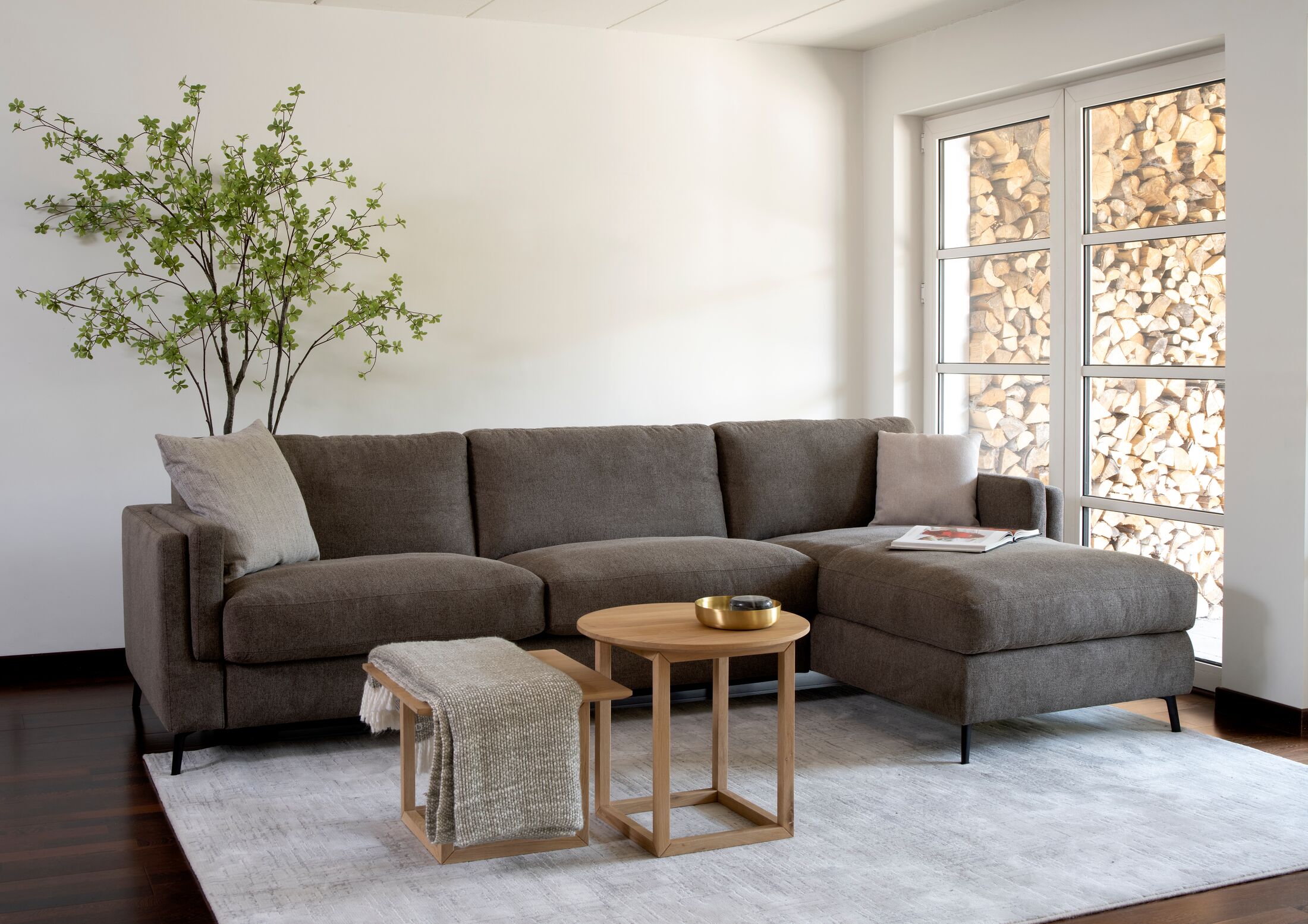 The sofa bed with a long chair
To continue on comfort, let's move on to the next comfort trend, the corner sofa bed. The corner sofa bed is also a much sought-after model in our showroom. You then have an extra extended part in addition to the normal sofa/bed part, which ensures that you can stretch out with your legs. We call this a longstair. Sounds wonderfully relaxed right? Of course you need a little more space for this type and these types are usually purchased for a larger space. In some of our models, there is a storage space in the long chair section for your bedding, for example. This will save some space. Curious about our range corner sofa beds? Come and visit us or let yourself be inspired online.
Sleep every night on the sofa bed
We take a small step back from the trends and would also like to give you some useful tips. It is of course important that your new acquisition fits within the trends, but we, as sofa bed specialist, also want to give good advice. Many of our customers indicate that they would like to sleep on their sofa bed every night and want to know if this is possible. Of course this is very well possible, but then it is important to choose the right model that is suitable for this intensive use. Of course you don't just want a beautiful couch for the day, but also a wonderfully comfortable mattress for the night. In our collection there are certainly sofa beds that are suitable for sleeping on every night. Look at our models with it royal mechanism. Would you like more information? Then come and visit our showroom in Amsterdam.
The small sofa bed
Another tip if you need a sofa bed for a small space. Here you can go along with the latest trends, but a corner sofa bed will often not fit in small spaces. Then you sometimes have to step away from the latest trends and look for a practical solution. Fortunately, a practical solution can also be beautiful and we have a nice collection of sofa beds that are ideal for tight spaces. Take a look at our small page for this sofa beds.
Apart from the trends, we have a wide collection with about 50 sofa beds. So there is something for every style and wish. Want to know if your type of sofa bed can be found? Be welcome in our showroom! Would you like some more information? Then also read our blogs; "Why a sofa bed", "Buying a sofa bed, what do I need to know?" or "What is the best sofa bed?". Who knows, you may find your answer there too.