Spacious
offer
in our showroom

Professional
advice

Free
delivery across NL, excluding the Wadden Islands
Buying a folding bed, what should I pay attention to?
Are you looking for a space-saving solution? Then one can murphy bed be a very convenient solution. During the day you can easily fold it and in the evening you can turn it into a lovely bed. But which folding bed should you buy? There are many different types of folding beds, so we can imagine that it can be difficult for you to determine which folding bed is suitable for you. We have been selling folding beds for more than 35 years and can advise you well as a specialist. We have therefore listed the most important points for you when buying a folding bed.
How much space do you have?
First of all, it is important to determine where the folding bed will be placed. Of course you need to know whether your new acquisition will fit in the space. Therefore, always measure the space first! Do not only consider the width of the available wall, but also the space that is available to unfold the bed. The ceiling height is also important. This is sometimes forgotten, but it is also very important for folding the bed.
You can then take the measurements with you during your visit to our showroom. Our advisors can then think along with you about the options to ensure that you choose a folding bed that perfectly matches your available sizes.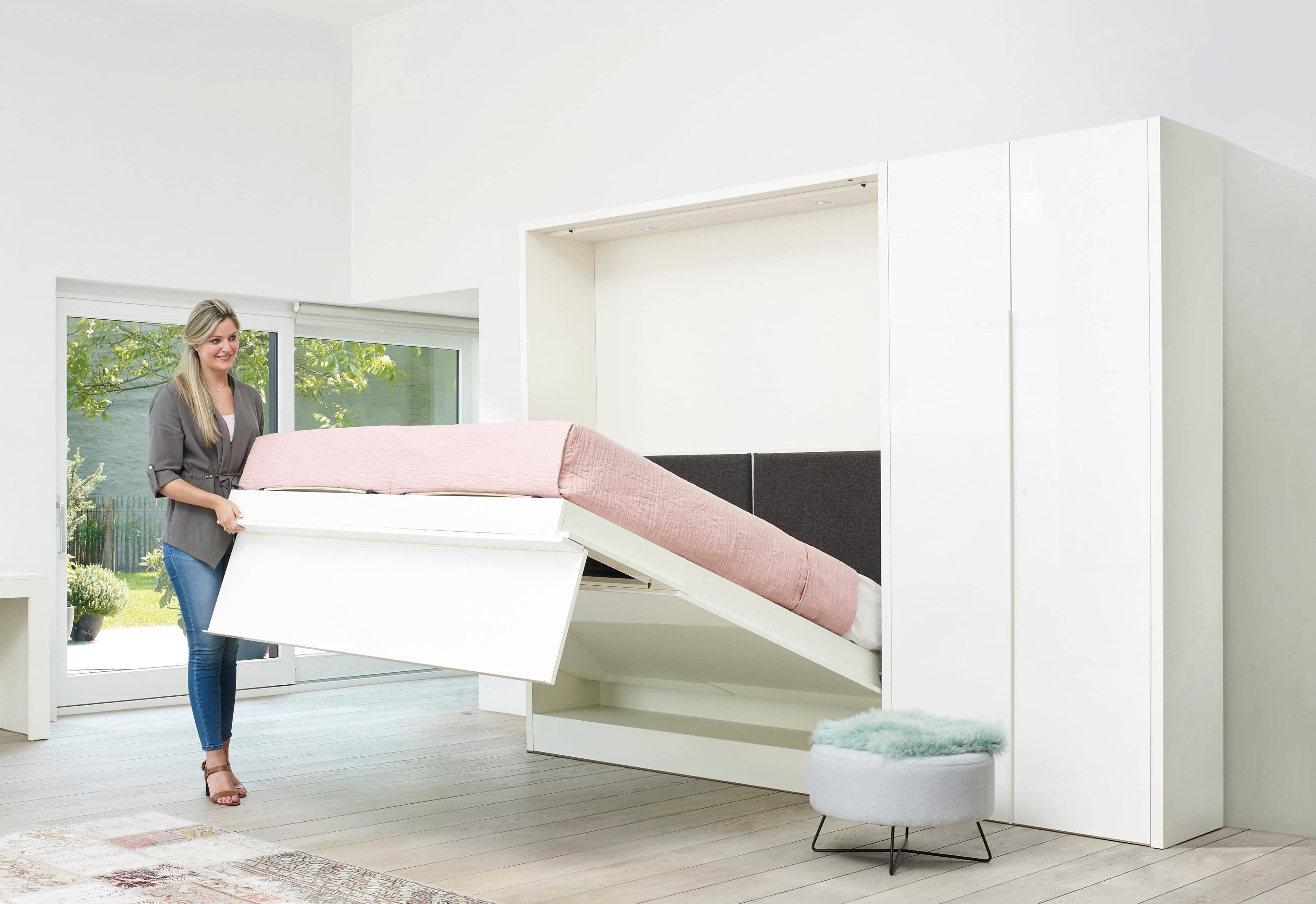 Vertical or horizontal folding bed, what's the difference?
Depending on the measurements you have taken, we can quickly conclude whether it is better for you if the bed folds out vertically or horizontally. Or maybe both options are possible for you?! But what is the difference between a horizontal or vertical folding bed?
Let's start with the horizontal variant. at a horizontal folding bed you lie along the wall and the space occupied by the folding bed is wider than the mattress length. This model is suitable for longer narrow spaces, because the total space that the folding bed needs when unfolding is quite small.
Second it vertical folding bed† With this variant you lie with your head against the wall. The space occupied by the furniture is approximately 15 to 20 cm wider than the mattress size. You will notice right away that this variant is less wide than the horizontal variant. However, a vertical folding bed takes up more space when unfolded.
Do you still find it difficult to make a choice based on this information? Then you can simply visit the showroom, because our advisors are happy to think along with you! In addition, you immediately get a good idea of the possibilities by viewing and trying out our variants. Read on, because there are some useful tips and facts coming (even if you come to the showroom).
A multifunctional folding bed!
A multifunctional folding bed? Yes, this variant is also possible! Some folding beds you can combine it with a desk or table and even with a sofa! A folding bed has always been handy, but it is also possible to give this piece of furniture two functions in one. For example, during the day you can use the table to work or eat and if you want to go to bed at night, you can pull out the bed in no time. The table then automatically disappears under the bed.
Then we have now at least had all types, but then the question arises, which color?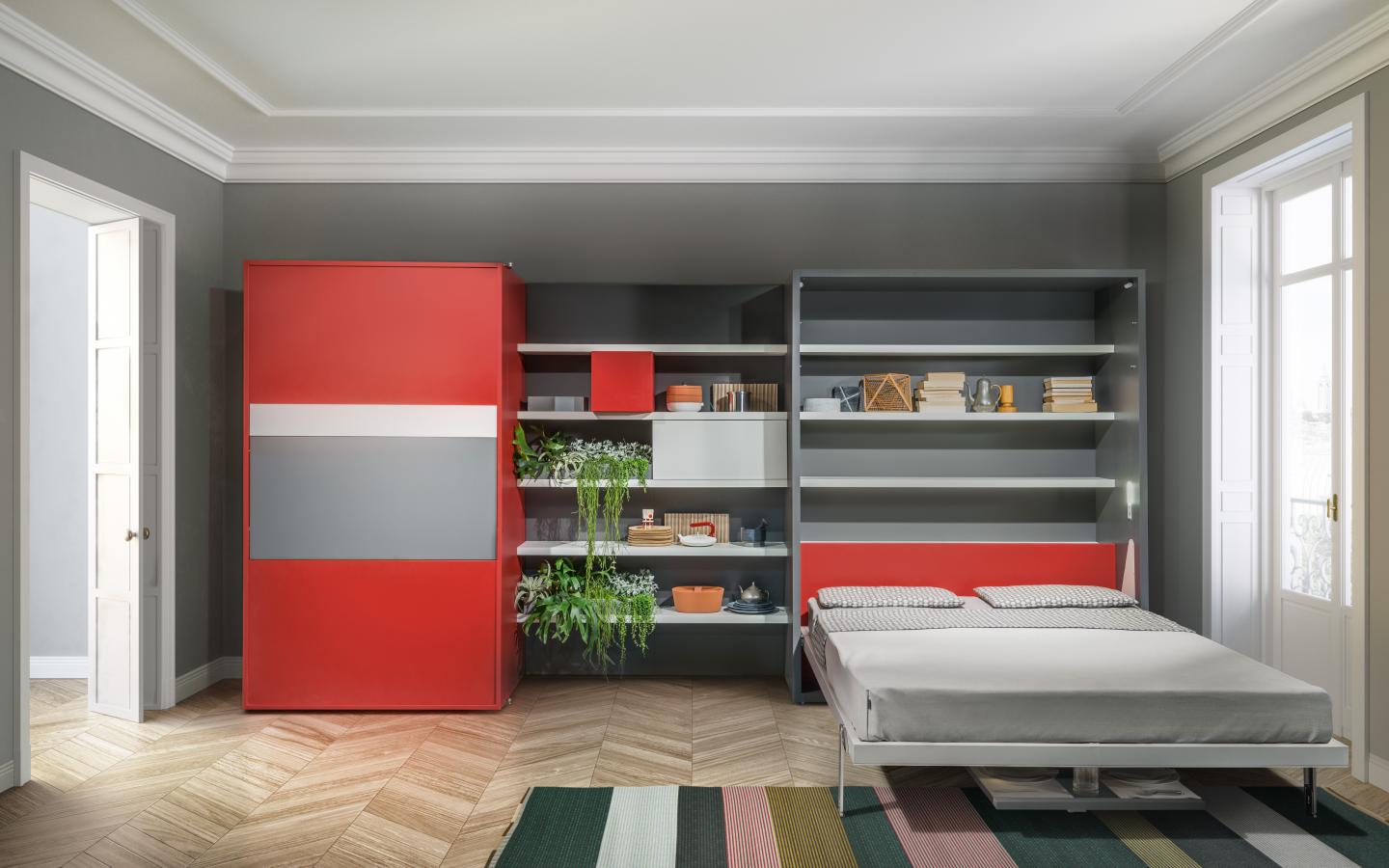 Beautiful red is not ugly
You may not know this, but you don't have to choose a standard color with us, such as black, gray or white. If you want to order your folding bed in a cozy color, this is often possible. Because beautiful red is not ugly! Most of our folding beds are available in various looks and colours. In this way we can ensure that your new murphy bed also fits perfectly into the interior!
Then we have actually arrived at the last part. Is a folding bed suitable for sleeping on every night?
A folding bed for every night
If you want to sleep on the rollaway bed every night, that's no problem at all! All our folding beds are of a high segment and have strong quality. They are therefore (of course in combination with a good mattress) very suitable for sleeping on every night. Do you already have it at home tomorrow?
Can I sleep in the folding bed tomorrow?
Patience is a virtue. There are so many options available that your folding bed is always made to order for you. You choose your desired bed size, the color, the extra options, etc. As a result, you will have to deal with delivery time. Depending on the manufacturer, we can inform you how long this will be. Are you really in a hurry? We have some models in stock for sale. So you have no additional choices and it will always be exactly the model that is for sale. Take a look at these models our webshop† Once you have chosen and ordered a folding bed. We ensure that it is delivered safely and properly assembled by our professionals.
Your folding bed safely and properly assembled by our own professionals.
The folding beds are always assembled by our own professionals. So you don't have to do anything with the installation anyway! This service is included as standard with us if you live on the mainland in the Netherlands. Our own technicians ensure that your folding bed is mounted on your wall safely and properly. A folding bed can never stand freely in the room. So you need a solid wall to which we can mount the furniture. Not sure if your wall is strong enough? Talk to us about what your wall is made of. We will then discuss the installation options with you.
See first then believe?
we have in our showroom about 20 different folding beds. Come by to orientate yourself without obligation if you want to buy a folding bed. We would like to let you experience for yourself how easy a folding bed works.
Maybe these folding beds are interesting for you?