Product information
The Rondo sofa bed is a compact model with a sloping and rounded armrest.
The seat cushions have a top layer of memory foam, which is why the sofa has a comfortable seat.
This in combination with the ROYAL-mechanism with a very good pocket sprung mattress of 17 cm. thickness, provides an extremely comfortable bed for every night. The fitted sheet can be folded up. However, you should store the duvet and pillows elsewhere. You have a wide choice of fabrics with the Rondo sofa bed. In addition, you can also order the Rondo sofa bed with a long chair attached. In short: the possibilities are extensive with this beautiful sofa bed. Finally, we invite you to visit our showroom in Amsterdam so that you can choose what is the best version for you.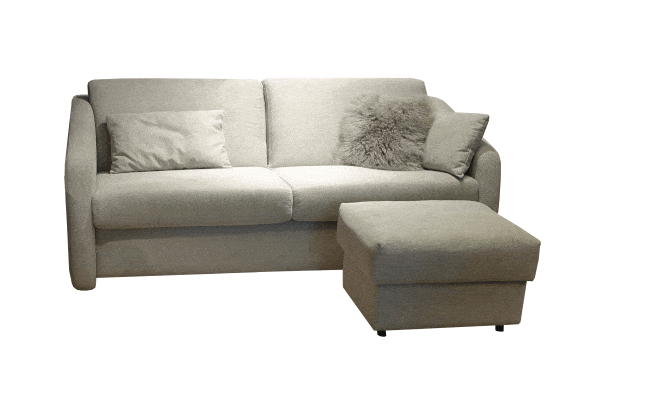 The starting prices of the Rondo sofa bed are:
140x200 from € 4,988 with long chair (bench width 268 cm.)
160x200 from € 5,192 with long chair (bench width 288 cm.)
Important information regarding the delivery of the Rondo sofa bed:
The Rondo sofa bed can be largely disassembled. The largest part that remains depends on the bed width. The depth is 90 cm. the height is only 50 cm. and the length 165 (bed 140) and 185 (bed 160) cm. If you are not sure whether most of the stairs can enter your house, you can always send us a video of the stairwell. That way we can estimate whether it would be possible or not. You can send your video to our WhatsApp number 0682941119. After we have reassembled the sofa in the location you selected, we take all the packaging material with us; that's service!
Delivery and installation are also FREE in the Netherlands (excl. the Wadden).
For example, would you like a delivery to the Wadden Islands or Belgium?
Please contact us first about the possibility and additional costs.