Spacious
offer
in our showroom

Professional
advice

Free
delivery across NL, excluding the Wadden Islands
Someone can always sleep on the Easy Living sleeping chairs!
Looking for a space-saving solution? Then a sofa bed, sofa bed or folding bed is always a good solution! But if you really want a space-saving solution for a small space, then you should go for the sleeping chair! A sleeping chair is an ideal solution if you occasionally want to have a single bed, but do not want a large piece of furniture in the room. In our collection we have various sleeping chairs that can be changed from chair to bed with great ease. Does a friend spontaneously stay overnight? No more problems with a sleeping chair from Easy Living! Discover many more benefits! 
Is it possible to sleep comfortably on a chair?
It may not sound comfortable at all, sleeping on a chair, but we can assure you that you can sleep wonderfully on a sleeping chair. You better give your guests a sleeping chair than a folding bed or air mattress, because a sleeping chair offers much more comfort. We therefore have various choices of sleeping comfort in our collection. Every sleeping chair has its own support and mattress filling and our advisors are happy to explain this in more detail. Some sleeping chairs have a choice of three different mattress types, so we understand that it may be difficult to know what the right choice is. So please come and visit us our showroom to experience the sitting and lying comfort for yourself and to be advised. This way you can choose the comfort that suits you and your guests!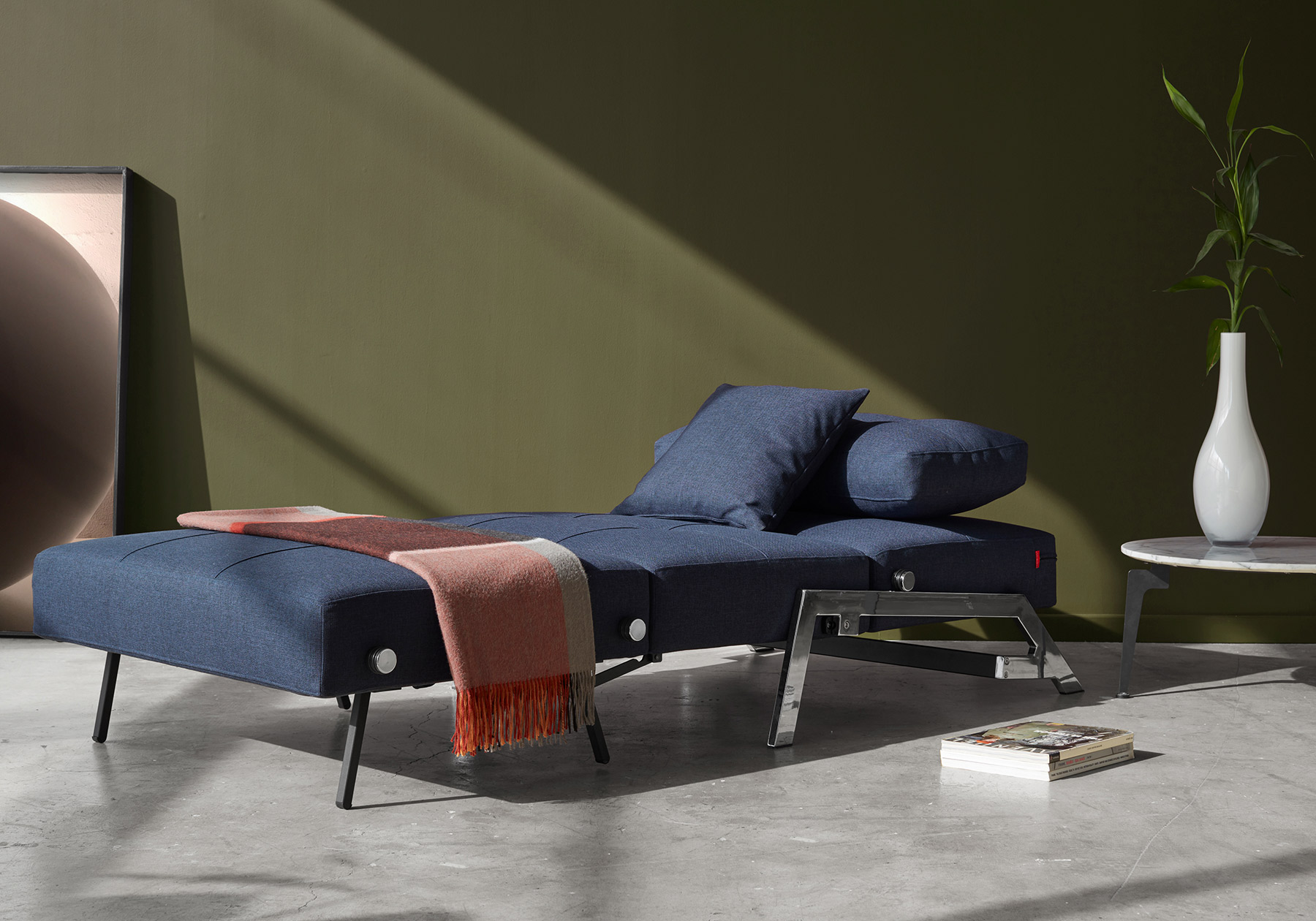 Do sleeping chairs always have armrests?
We often get the question whether sleeping chairs always have armrests. This differs per model and you can determine yourself. If you really want to save space, a sleeping chair without armrests may be a bit smaller, but if you like to recline in a chair, then I would take a look at our range of sleeping chairs with armrests. One of our toppers is the Cubed sleeping chair with armrests† This has a high comfort and is of very good quality. In addition, the chair also looks beautiful (if we do say so ourselves).
Sleeping chairs in the color that suits you!
Actually the most important part. Often a sofa bed, murphy bed, sofa bed or sleeping chair a space-saving solution. We (and we think you should too) find it very important that your acquisition fits within the interior. All our sleeping chairs are therefore available in various fabrics. So in addition to having decided which model sleeping chair you want, you can also choose from which upholstery you want. In this way, the chair can really become an addition to your current interior. The sleeping chair is made to order for you. This does mean that you have to deal with delivery time. Don't have time to wait long? Then take a look our webshop† We have some sleeping chairs in stock there.
Sleeping chairs delivered for free by Easy Living
Have you decided and are you going to order a sleeping chair from Easy Living? Then we will always deliver it to your home in the Netherlands free of charge. Does the sleeping chair also need to be mounted? No problem! We assemble the chair for free, so you don't have to do anything yourself. Afterwards, our own deliverers take the packaging material back with them, so that you don't have any junk in your house or have to clean up anything yourself. That's the service we like specialty store happy to offer.
Want to test?
Would you like to come and have a test? Then that is of course no problem, because you are always welcome in our showroom in Amsterdam! You have all the freedom and time to orientate yourself without obligation. You can take a leisurely walk and try everything out. If you have any questions, our experienced advisors are at your disposal. Would you like to be inspired? Check out our range online and find the perfect one sleeping chair!
Maybe these sleeping chairs are interesting for you?