Product information
Wall bed Easy Desk Work large desk and bed.
Wall bed Easy Desk Work has a large desk and bed to work on during the day and to sleep well in the evening! This vertical folding wall bed is also mounted free of charge. This Easy Desk Work is available in bed sizes 90, 120, 140, 160 and 180x200 cm. In addition, you have many options for combining with colors with this Easy wall bed. For example, the desk can be colored differently or the same as the front and body of the wall bed. You can also opt for an upholstered back wall and/or lighting.
With this program you have the option of buying cabinets next to the wall bed. The solid slatted base of the Easy Desk Work wall bed has recently become available in 2 parts. This will certainly help to ensure that the Easy Desk Work wall bed is on the correct floor upon delivery.
With the bed size of 160 and 180 cm. wide, the bed base can always be disassembled. With a bed size of 140 cm. wide, the bed base is standard in one piece. This can also be delivered in 2 parts at an additional cost. You can choose from more than 150 different melamine versions in wood colours, lacquer colours, high-gloss colors and metal finishes. It should be clear that there are different price categories. The Easy Desk Work wall bed shown has a mattress size of 160x200 cm.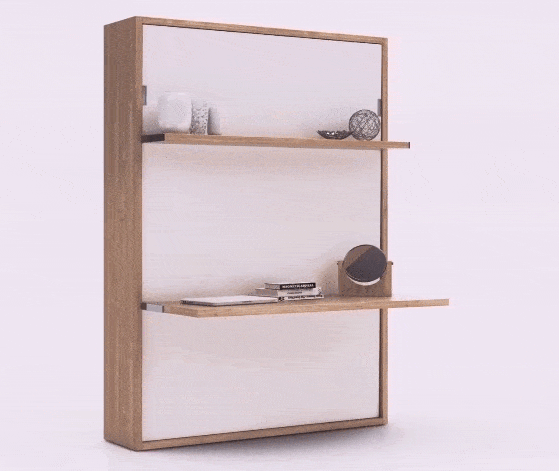 Starting prices of the vertical wall bed with desk
That is including desk and excluding shelf/leg, excluding mattress and in the first price category with a bed size of:
90 x 200 cm, Price from: € 3,681
100 x 200 cm, Price from: € 3,836
120 x 200 cm, Price from: € 3,911
140 x 200 cm, Price from: € 4,091
160 x 200 cm, Price from: € 4,471 divisible base
180 x 200 cm, Price from: € 4,589 divisible base
The wall bed Easy Desk is also available without desk and shelf/leg. For information you can here click.
Of this wall bed Easy there is also a horizontal version. For the horizontal wall bed Easy you can: here click.
In our showroom, the wall bed Easy is vertical without a desk and the wall bed Easy desk is horizontal with a desk.