Product information
Wall bed Easy is a folding bed that excels in possibilities. We have finally succeeded in developing a program in collaboration with the manufacturer with a wide choice in both width and length of the mattress. Moreover, the wall bed is available with a width of 90, 100, 120, 140, 160 and 180 cm. and you can choose the mattress length from 200, 210 and 220 cm. In the Netherlands, for example, there is a demand for longer beds. That is why we hope to welcome you soon in our showroom.
You can also opt for an upholstered headboard and lighting with the Easy wall bed. In addition, there are also cupboards next to the folding bed available in various sizes. The version in our showroom is without handles and works with the 'Push-pull' mechanism to open the folding bed, the cupboard doors and the drawers. This gives the wall a very sleek appearance. On the other hand, the folding bed is supplied with handles as standard. The fronts and slatted bases of the Easy wall bed are available from a mattress width of 160 cm. always divisible, which is why we can get in almost everywhere and the parts are manageable for the deliverers.
In the meantime, the prices of only the wall bed in the first category are exclusive of the mattress from:
Bed length
Bed width
200 cm.
210 cm.
220 cm.
90
2686
3090
3090
100
2843
3270
3270
120
2918
3355
3355
140
3096
3560
3560
160
3478
4000
4000
180
3587
4125
4125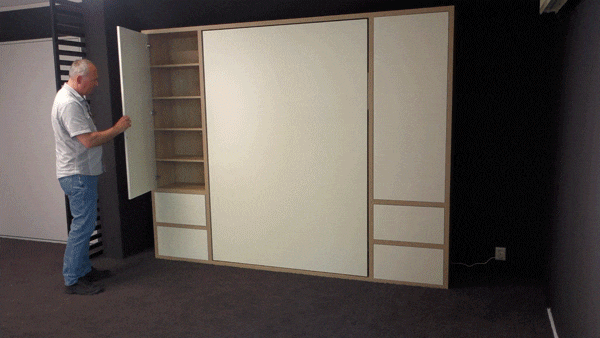 All in all, you can choose from more than 150 different versions in melamine wood, lacquer and high-gloss colours. In addition, there are metal finishes. As a result, it should be clear that there are different price categories. The wall bed shown has a mattress size of 140x200 cm.
Important information regarding the delivery of the wall bed/folding bed Easy:
When we deliver the wall bed Easy to you, it is first of all important to know that the wall bed will arrive disassembled. After all, the largest part that remains is the bed frame. This is often in 2 parts and must therefore be able to enter your home. As a result, a spiral staircase or stairs with a kink could cause problems. We therefore request that you measure this carefully and contact us if there is any doubt. As a result, you can also send us a video of the stairs as you walk up. Our whatsapp number is 0682941119.
The wall bed Easy is supplied by us and mounted at the location chosen by you and mounted on the wall. Finally, it is therefore important to know what the wall is made of. Suppose the wall is made of concrete, stone or gypsum concrete blocks, then that requires a different confirmation. Finally, if in doubt, we ask you to contact us.