Product information
Folding bed Flat officio 140 x 200 has a bed size of 140 cm wide.
The folding bed Flat officio 140 x 200 cm. is also available in a single version with a bed size of 90 x 200. The folding bed offers a wonderfully large desk to work on. It is possible to obtain 2 sockets in the desk, a cable opening and a LED strip as lighting above the desk. These options ensure that you can really create a wonderful workplace with this handy wall bed. You can also order a top cupboard for extra storage space.
Since this piece of furniture is a desk and bed at the same time, it saves extra space. If you are not using the bed during the day, you can fold it up in no time at all to create the desk. When you are ready for the night, you can easily turn the bed down. You can largely leave all your stuff on the desk! The lock at the top prevents the bed from accidentally unfolding when you lean on the desk. Folding bed Flat offico has a very luxurious slatted base with double slats below your waist that you can adjust whether you want the slatted base to spring more or less.
In combination with a nice mattress, you can sleep every night on this folding bed without any problems. However, it is of course also an ideal piece of furniture for the work / guest room!
Finishing the folding bed Flat Officio 140
You can choose multiple colors and finishes for the Flat officio folding bed, so that it will suit your needs and current interior. A mattress of up to 18 cm thick can be placed on this folding bed. Our advisers can tell you more about the mattress options.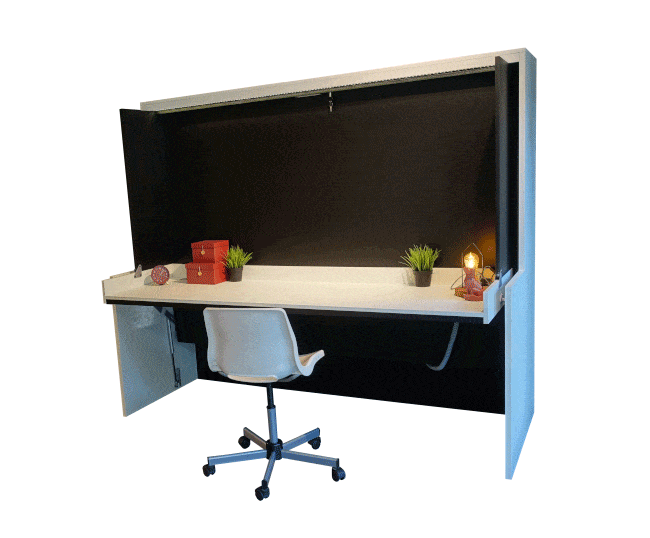 Price from (in the standard white finish)
Bed 140 x 200: € 4,054
The wall bed can be viewed in our showroom.
Also check out our others wall beds with desk.