Spacious
offer
in our showroom

Professional
advice

Free
delivery across NL, excluding the Wadden Islands
Advantages of a folding bed
Why is a folding bed right for you? We are happy to explain to you on the basis of the advantages of a folding bed when a folding bed can be a good choice.
A folding bed saves space
The biggest advantage you will achieve with a folding bed is the saving of space. You do not always have to leave a bed in the room when you are not using it. Especially for the occasional sleepover, it is actually a shame that a bed fills the room while there are no guests. Wouldn't it be ideal if the bed only comes out when you need it? A folding bed is folded up during the day and unfolded into a bed if desired. Ideal right?!
A folding bed is multifunctional
If you want, you can also make the folding bed multifunctional. Of course you can simply order a folding bed "separately" and the bed is nicely folded up during the day and concealed in a cupboard. What is also possible, however, is that you combine the folding bed with a table, desk or sofa. That way it becomes multifunctional and you are even more space-saving. During the day, the bed is folded up and there is a table, desk or sofa at the side bedside cabinet fixed. This can be used for everyday things such as eating, working, relaxing, etc. If the bed is needed in the evening, the furniture changes into a bed in an instant.
Take a look at our range for these solutions folding beds with table or folding beds including sofa.
A folding bed works very easily
You don't have to worry that it is very heavy to unfold or fold the folding bed. The folding beds from Easy Living go up and down very easily! The gas springs support your action, making the folding bed very easy to operate. Want to try it yourself? Then come and visit our showroom. Our advisors are ready to assist you.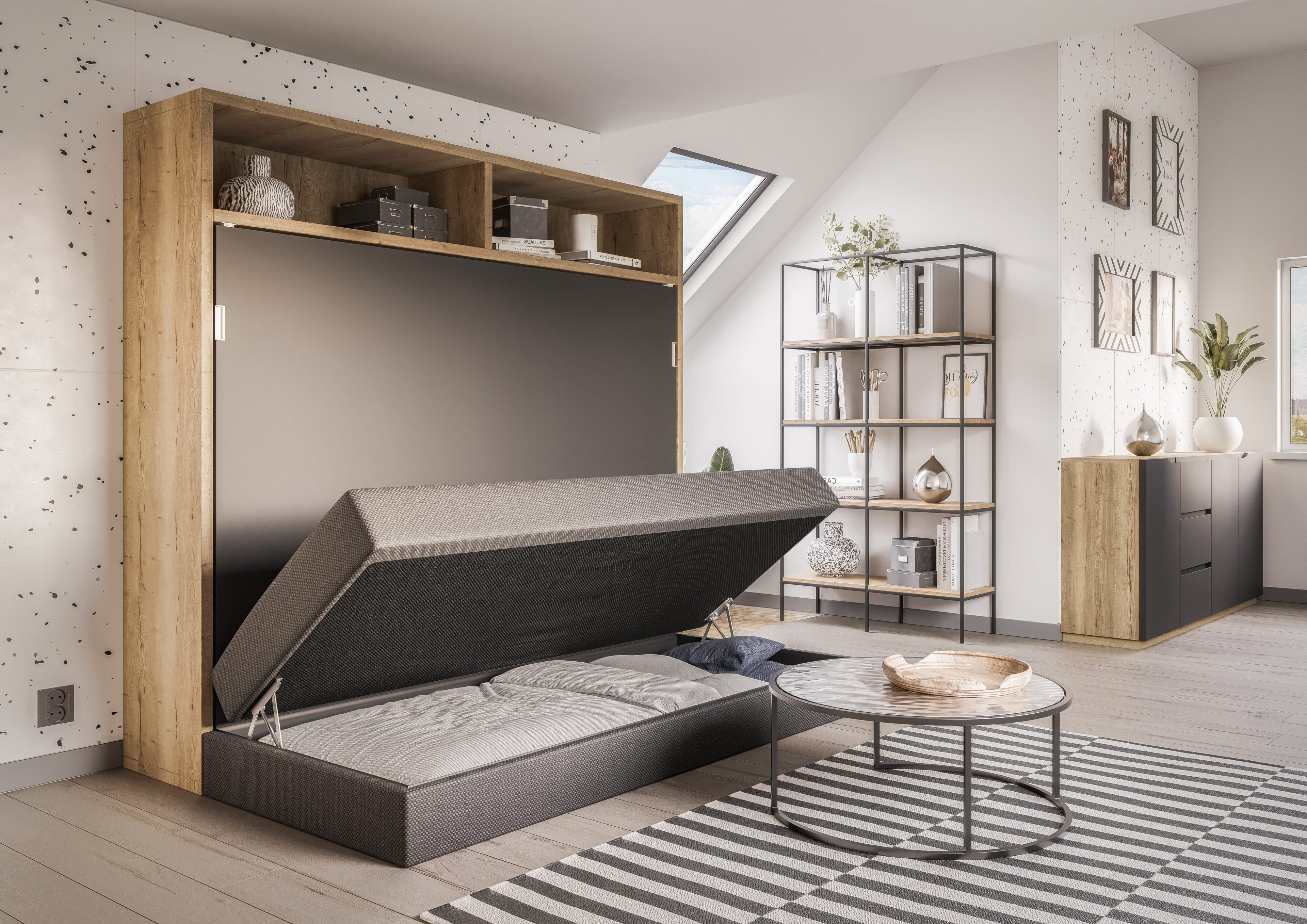 A folding bed fits into any interior
A folding bed is available in various designs and in many different finishes. You don't necessarily have to be stuck with a standard boring white cabinet. Due to the many options, you can choose a folding bed that matches your interior.
A folding bed is of high quality
The advantage of buying a folding bed from Easy Living is that you buy a high-quality folding bed. This means that you will enjoy it for a very long time. Even if you move house, the folding bed can be easily dismantled and reassembled in your new home. By buying a folding bed from Easy Living, you invest in quality and longevity
Have you become enthusiastic about the advantages of our folding beds? Then be welcome in our showroom to view our collection. Our experienced advisors are ready to give you advice without obligation.