Product information
Sleeping chairs Alexa 2x80x200 gray are the ideal solution if you want to have flexible access to a single or double bed!
Putting two Alexa 2x80x200 gray sleeping chairs together creates a sofa, but also a 160x200 cm bed. Because they are two separate elements, you can unfold them independently of each other. Handy when there is only one guest. You can also slide them apart at any time, whether in the sitting or sleeping position.
Fold-out system of the Alexa sleeping seats 2x80x200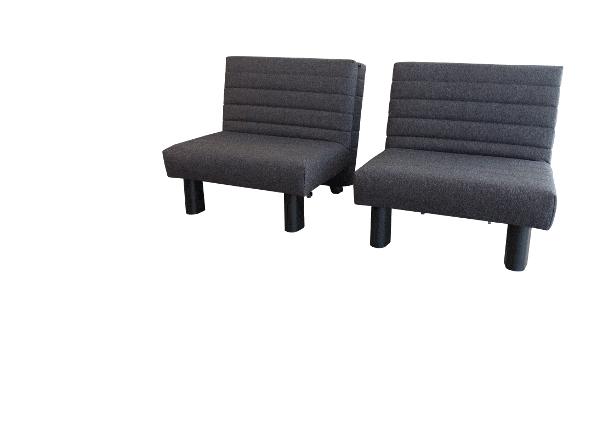 You can easily convert the Alexa 2x80x200 gray sleeping chairs into a comfortable bed. When you lift the seating area slightly and pull it forward, the bed system rolls out.
The sofa bed has a slatted base with a high-quality mattress on top. The filling consists of a polyether bottom layer with a very comfortable gel form top layer. A set of the Alexa sleeping chair has a bed size of 2x80x200 and comes in the color anthracite.
In this fabric, the price for the Alexa sleeping chairs 2x80x200 with gelform mattresses is € 1,495 instead of € 1,710
In our webshop the recliners are also available in red.
Sleeping chair Alexa 80x200 is also per Unit available in our webshop.
Important information regarding delivery:
The Alexa sleeping chair is packaged in cardboard and plastic and, because it has no armrests, can generally go in anywhere. However, if you are in doubt whether the recliner can enter your home, please let us know. The package has a size of 80x100x85 cm per armchair.
We assemble the sofa bed at the location selected by you and take all the packaging material with us; that's service!
Delivery and assembly are FREE in the Netherlands (excl. the Wadden).
Would you like a delivery on the Wadden Islands or in Belgium?
Please contact us first about the possibility and additional costs.
Delivery of the sleeping seats Alexa
Delivery takes place within 3 weeks depending on your place of residence. Do you have a deadline? Please contact our employees first to discuss this.
Unfortunately, the sofa bed is now out of stock. Would you like to know when the sofa bed will be back in stock? THEN CLICK HERE and fill in the form.