Product information
Sofa bed Fiona with the Comfort Plus mechanism
The Fiona has a sleek and modern appearance. In addition, the sofa bed is not too large in terms of dimensions due to its slim design. Because there is an option to order armrests and/or headrests, the Fiona sofa bed has a playful character.
In addition, the Comfort Plus mechanism makes it very easy to transform the Fiona sofa bed into a comfortable bed. This sofa bed comes with a pleasant gel-form mattress. You can leave a flannel and fitted sheet around the mattress during folding and unfolding. However, the pillows and duvet should be stored elsewhere.
Sofa bed Fiona is available in many different fabrics, so that you can easily change the style of your sofa to a style that fits in your home, for example by choosing the fabric. One arm or headrest is available from € 134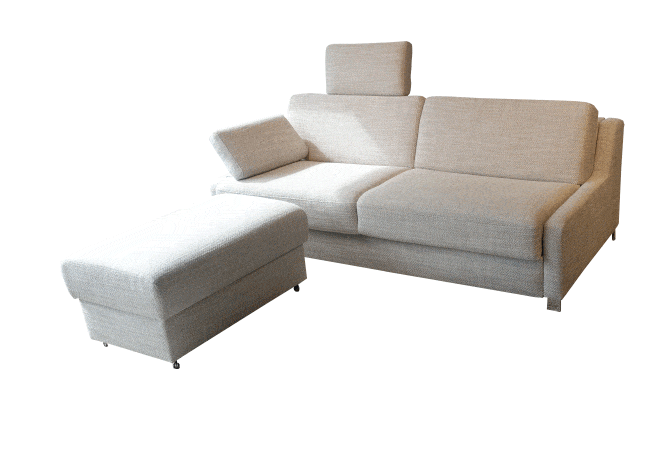 Prices of the Fiona sofa bed with gel-form mattress and without armrests or headrests from:
Important information regarding the delivery of the Fiona sofa bed:
The Fiona sofa bed can be largely disassembled. The largest part that remains depends on the bed width. The depth is 90 cm. the height is only 50 cm. and the length 145(bed 120), 165(bed 140) or 185(bed 160) cm. If you are not sure whether most of the stairs can enter your house, you can always send us a video of the stairwell. That way we can estimate whether it would be possible or not. You can send your video to our WhatsApp number 0682941119. After we have reassembled the sofa in the location you selected, we take all the packaging material with us; that's service!
Delivery and assembly are FREE in the Netherlands (excl. the Wadden).
For example, would you like a delivery to the Wadden Islands or Belgium?
Please contact us first about the possibility and additional costs.