Spacious
offer
in our showroom

Professional
advice

Free
delivery across NL, excluding the Wadden Islands
Want to buy a luxury sofa bed? Discover high-quality sofa beds
Do you want a luxury sofa bed to buy? In the search for the perfect sleeping solution for limited spaces, you will quickly end up with high-quality sofa beds. These multifunctional furniture pieces combine comfort and durability, making them a smart investment for your home. In this blog, we dive deeper into the benefits of high-quality sofa beds and why they are a must-have if you need to think space-saving.
A luxurious sofa bed offers comfort and quality
High-quality sofa beds offer the comfort of a regular bed. The mattresses, made from materials such as cold foam and pocket springs, provide excellent support during sleep. This in combination with a strong mechanism results in a good night's sleep, regardless of whether you use the luxurious sofa bed for a short nap or a full night.
Durability that lasts
If you buy a luxury sofa bed, you naturally want it to last a long time. That's why you choose one high quality sofa bed. The durable construction of sofa beds is very important and is the part that ensures the high quality. Our luxury sofa beds are made with sturdy materials that can withstand daily use. This means that you not only enjoy comfort, but also invest in a piece of furniture that you will enjoy for a long time. With a sofa bed that you will use every night, intensive use also places much greater demands on all parts of your sofa bed. It is therefore important that all parts of your sofa bed are made of high quality and we ensure that!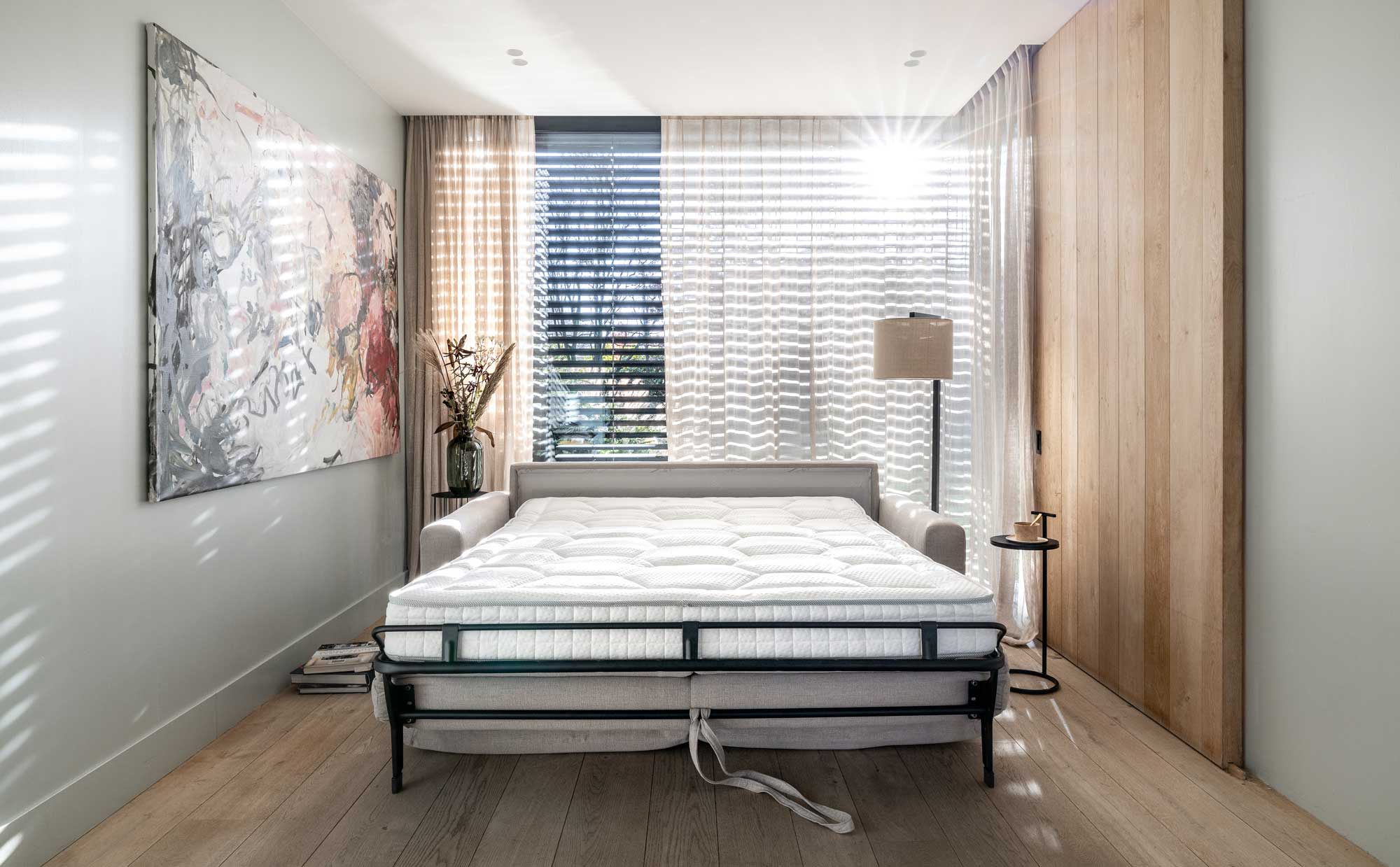 You can save space in style with a luxurious sofa bed
It is of course important that a luxurious sofa bed is of high quality, but did you know that with our sofa beds you also get a stylish solution. Because you naturally save space in style. In small homes or studio apartments where every centimeter counts, our stylish furniture pieces offer the perfect solution. They combine seating and a bed in one, allowing you to use space efficiently without the need for an extra room, but also give your home a luxurious look.
Stylish choices for every interior
Our high quality sofa beds are available in different styles and designs, so they fit seamlessly into your interior. Whether you prefer a modern, sleek look or a more traditional look, you will undoubtedly find a sofa bed that meets your aesthetic needs. The various upholstery options, such as fabric, leather and artificial leather, also offer the opportunity to match the sofa bed to the rest of your furniture.
You can buy a luxury sofa bed at Easy Living
A high-quality sofa bed offers the best of both worlds: comfort and functionality. It's a smart investment for those with limited space and a stylish addition to any interior. With durability, space saving, style and versatility in one piece of furniture, a high quality sofa bed will take your space to the next level. At Easy Living we have a wide choice of high-quality sofa beds. Our sofa beds with it Royal mechanics are among the highest quality sofa beds. What are you waiting for? Discover the world of high-quality sofa beds at Easy Living and enjoy the benefits of comfortable, space-saving solutions in your home. May we welcome you in our showroom in Amsterdam. We are ready for you with a good cup of coffee and expert advice!