Product information
Bed box Bunk bed Double is a horizontal folding bed box.
The beds have a size of 85x200 cm. Bed cupboard bunk bed Double has a depth of only 33 cm. Wall bed Double has a width of 213.5 cm. and the height is 197.5 cm. The folding bed is supplied with a slatted base as standard. It is also possible to add a folding desktop of 100x60 cm to the front panel. to obtain. The double folding bed is available in 6 solid melamine colors and 5 wood-colored melamni colors. There are also 24 different paint colors. It is possible to choose the fuselage in a different color than the front panels and the possible desktop. The choice of finish affects the price. Matching mattresses are also available. Mattress thickness about 18 cm. Lighting is an option and wall cabinets are also available with the Double bunk bed.
Price of the Double of 33 cm. depth excluding mattresses and without desktop from:
€ 2,803, entirely in melamine
€ 3,307, body in melamine and front in lacquer
€ 3,843, completely in paint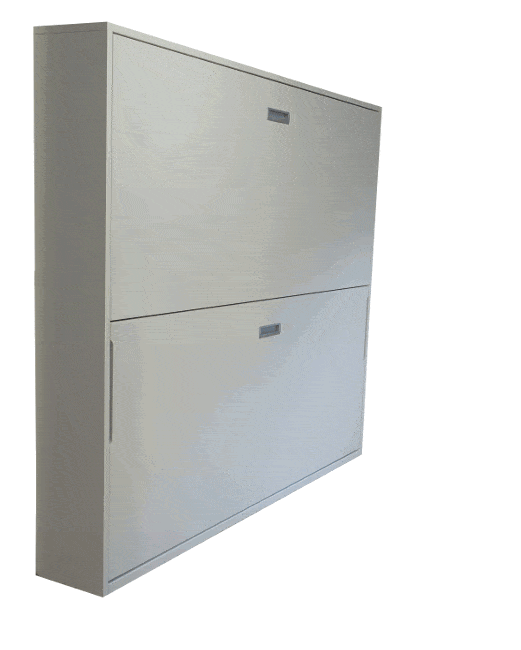 Prices of the bunk bed cabinet with a depth of 44.6 cm. depth excluding mattresses and without desktop from:
€ 3,541, entirely in melamine
€ 4,044 body in melamine and front in lacquer
€ 4,662, completely in paint
Important information regarding the delivery of the double bunk bed wall cupboard:
When we deliver the Double bunk bed to you, it is important to know that the wall bed will arrive partly disassembled. Therefore, the largest part that remains is the bed frame and has a size of 205x90x7 cm. The bottom line is that this part must be able to enter you.
If you have a spiral staircase or a staircase with a kink, it could cause delivery problems. On that basis, we request that you measure this carefully and also contact us if there is any doubt.
The wall bed bunk bed Double is delivered and mounted by us at the location chosen by you and attached to the wall by means of brackets. It is therefore also important to know whether it is a solid wall of concrete, stone or gypsum concrete blocks. If in doubt, please contact us. Delivery and assembly are FREE in the Netherlands (excl. the Wadden).
On the other hand, if you would like a delivery to the Wadden Islands or Belgium, we ask you to contact us first about the possible option and additional cost. It follows that we will then come back to you.