Product information
The wall bed Space including table is characterized by its excellent quality.
During the day a table to eat or work at and in the evening a bed in no time at all. This is how you make the space multifunctional! In the evening you can conjure up the bed in no time! The mechanism of the wall bed Space including table is very easy to operate and also requires little force. You can place a mattress with a maximum thickness of 20 cm on the very solid slatted base. laying, so that a perfect bed can be obtained, which can be used daily. The program is available in these versions for the fuselage and the fronts. The hull is available in white decor, light grey, oak structure decor, San Remo oak decor, core beech decor, slate gray decor, sand decor, core beech veneer and wild oak veneer. In addition to the hull colours, the fronts can be supplied in the following colours: high-gloss white, high-gloss cream, light gray lacquer, stone gray lacquer, green lacquer, red lacquer and blue lacquer.
The prices of the wall beds without mattress, sofa, table or cabinets next to it start at:
€ 4,163, with bed size 100x200 cm. OFFER €3,895
€ 4,405, with bed size 140x200 cm. OFFER €4,095
€ 4,657, with bed size 160x200 cm. OFFER € 4,295
€ 5.302, with bed size 180x200 cm. OFFER € 4.795
The offer is available in the versions white decor, light gray decor, oak structure decor, San Remo decor, sand decor, core beech decor.
The extension table has an additional cost from € 751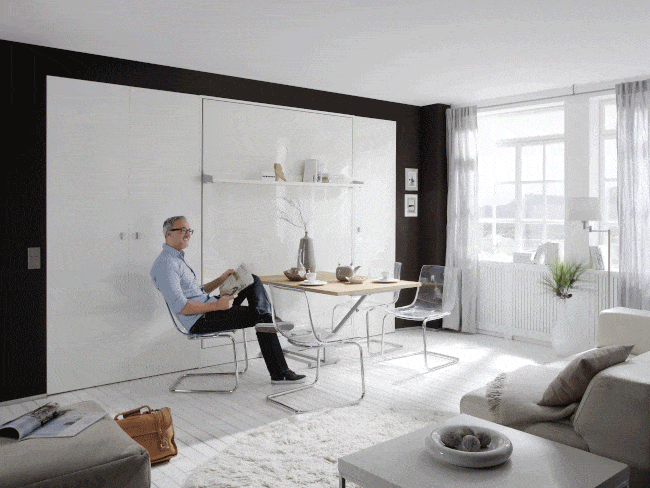 In the showroom we have the wall bed Space with a 140 cm bed. including extension table as in the attached animation. In our showroom we have also equipped the wall bed Space with a sofa with attachment including 2 side cabinets. The bed width in this version is 160 cm. In our showroom we can also show and explain the possibilities of the Space wall bed.
Important information regarding the delivery of the wall bed:
Wall bed Space with table can be largely disassembled. The largest part that remains depends on the bed width. If you are not sure whether most of the stairs can enter your house, you can always send us a video of the stairwell. That way we can estimate whether it would be possible or not. You can send your video to our WhatsApp number 0682941119. After we have mounted the wall bed in the location chosen by you, we take all the packaging material with us; that's service!
Delivery and assembly are FREE in the Netherlands (excl. the Wadden).
For example, would you like a delivery to the Wadden Islands or Belgium?
Please contact us first about the possibility and additional costs.